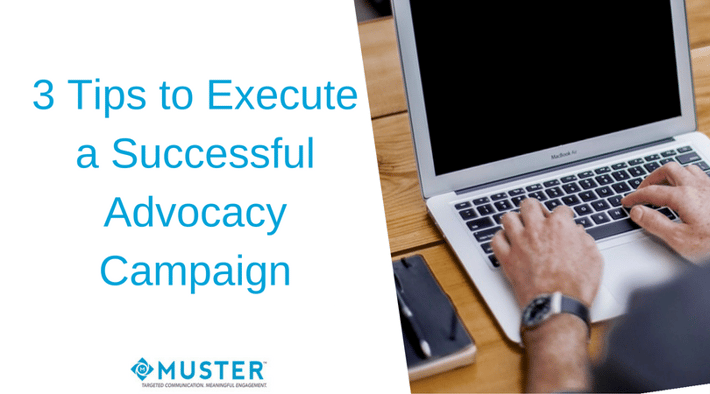 By definition, a "campaign" involves a series of initiatives aimed at producing a specific result. With that in mind, a well-designed advocacy campaign should include multiple activities that work harmoniously towards achieve an objective. When trade associations and/or nonprofit organizations seek to influence public policy through advocacy campaigns, these groups are striving for grassroots support, media exposure, and ultimately a change in policy surrounding an issue or a specific piece of legislation. In other words, an advocacy campaign is no small feat, and requires time to plan and carry out in order to reach legislative goals.
Here are 3 essential components to executing a successful advocacy campaign:
1. Use digital strategy to support a political advocacy campaign
Digital strategy can encompass anything from the role of social media in a campaign to the use of email marketing and website copy to achieve objectives. Technology is fundamentally transforming the way that nonprofits can engage in the legislative process, and because of the many opportunities presented by the digital world, digital strategy is an essential component to support a political advocacy campaign. Social media, communication channels, and other online outlets allow groups to educate members, supporters, and the general public about the issue at the heart of the campaign. Grassroots support stems from awareness, and in a digital age, awareness can be built online.
2. Harness momentum by funneling supporter engagement into clear advocacy action, both online and offline
As an advocacy campaign progresses and awareness surrounding the issue or item of legislation is heightened, engaging supporters directly is critical. As a trade association or nonprofit, the most important voices propping up the group's mission are the supporters and members. A key element to any successful advocacy campaign is connecting all extensions of the campaign through direct political advocacy, both online and offline. Here's a brief rundown:
Online advocacy is conducted through advocacy software, and is integral in connecting your members with their legislators. Bridging the gap between constituents and elected officials digitally is arguably the most important aspect to a successful advocacy push, and therefore crucial to an advocacy campaign. Are you looking to buy advocacy software but need some direction? Click here to download an informative eBook about online advocacy.

While engaging with policymakers online is an important piece of an advocacy campaign, influencing policy should be occurring offline as well. Consider hosting a Lobby Day as an event supporting the issue at the center of your advocacy campaign. To learn how to organize a Lobby Day, read this blog post.
3. Reach out to the media and share news of your advocacy campaign
Press coverage is not a prerequisite for producing a successful advocacy campaign; however, media exposure is a great advantage. Traditional media strategy and off-line engagement offers valuable opportunities to spread your message to stakeholders. Reaching out to journalists to speak with staff members about an advocacy campaign could lead to great press that will not only increase awareness about your advocacy campaign, but will also present your association or organization in a positive light that may lead to donations, new grassroots supporters or paid members.