MUSTER FOR ASSOCIATIONS.
Protect Your Members. Strengthen Your Industry. Know Your Impact.
Engage members in advocacy campaigns and drive impact in policy and regulatory issues with their voice.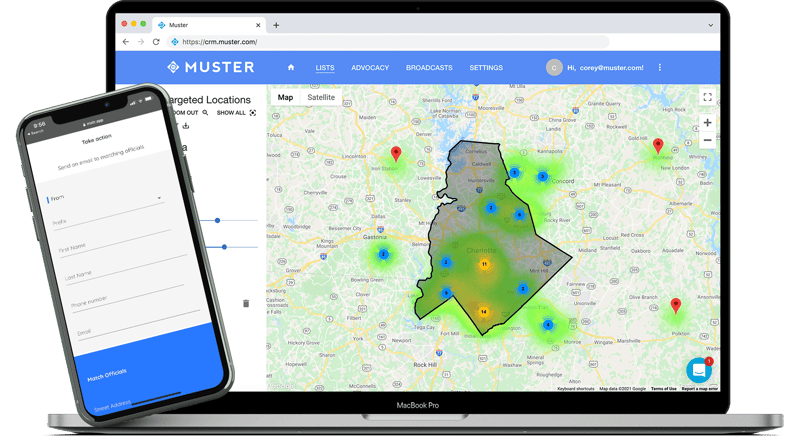 FEATURES & CAPABILITIES
Giving You Insight, Giving Your Members A Voice.
Advocacy CRM
Build filtered lists using our legislative data along with your custom fields. Track grasstops relationship. Visualize your data on maps.
Advocacy Campaigns
Protect the interests and the livelihoods of your members with Muster. Embed advocacy widgets on your website and view real-time analytics on your campaigns.
Email Broadcasts
Gain valuable location intelligence about your members and supporters with our heat and marker map functionality.
Text Alerts
Drive action with the power of SMS text. Reach your supporters anywhere and give them an easy way to engage with your campaigns.
TESTIMONIALS
Industry-Leading Support To Help You Find Success.
Muster has given our members the ability to get to know their delegates, and for their delegates to get to know them. Linking up constituents with their representatives is fundamental to our democratic way of governance. Not only is Muster an easy-to-use package, but the staff is friendly and responsive to queries.
WONDERFUL. Customer service has been so quick, thoughtful, and solution-oriented. The ease of use for me to create action alerts, the ease of use for the members of our organization to send targeted emails - it's been a game-changer for us.
ADVOCACY CRM
See Your Advocates In A Whole New Way.
Muster's Advocacy CRM brings a new level of contact management for your advocacy efforts. Utilize multiple addresses, custom fields, grasstops relationships, and more to build powerful lists.
The new Muster CRM also features powerful new visualization tools that allow you to map your contacts with heat and marker maps.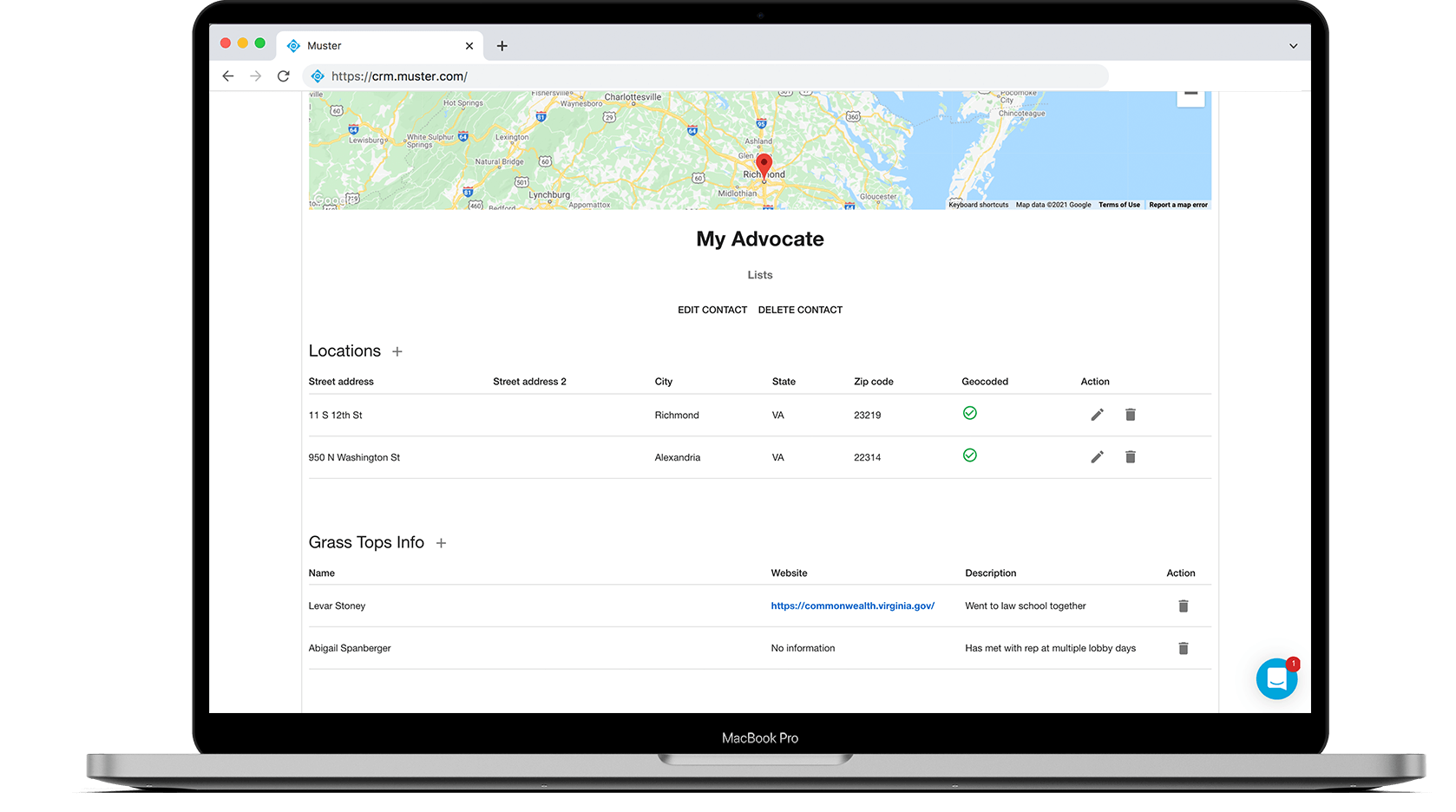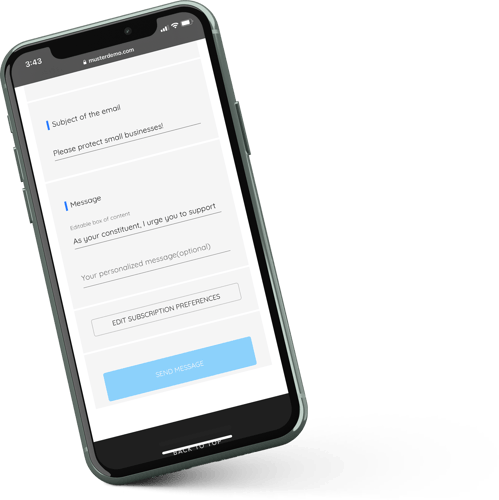 ACTION CENTERS
A Better Way To Take Action
Mobile-friendly, and highly customizable — Muster's action centers are easy to build and even easier to take action from.
Embed a youtube video, customize colors, and allow for rotating subject lines and messages to give your campaigns a more organic feel.
CUSTOMIZABLE THANK YOU MESSAGES
Get More Value Out Of Your Advocacy.
Drive memberships, PAC contributions, event registrations, and more for your association with customizable thank you messages.
Format text, include links and images to further market your association after someone has taken action.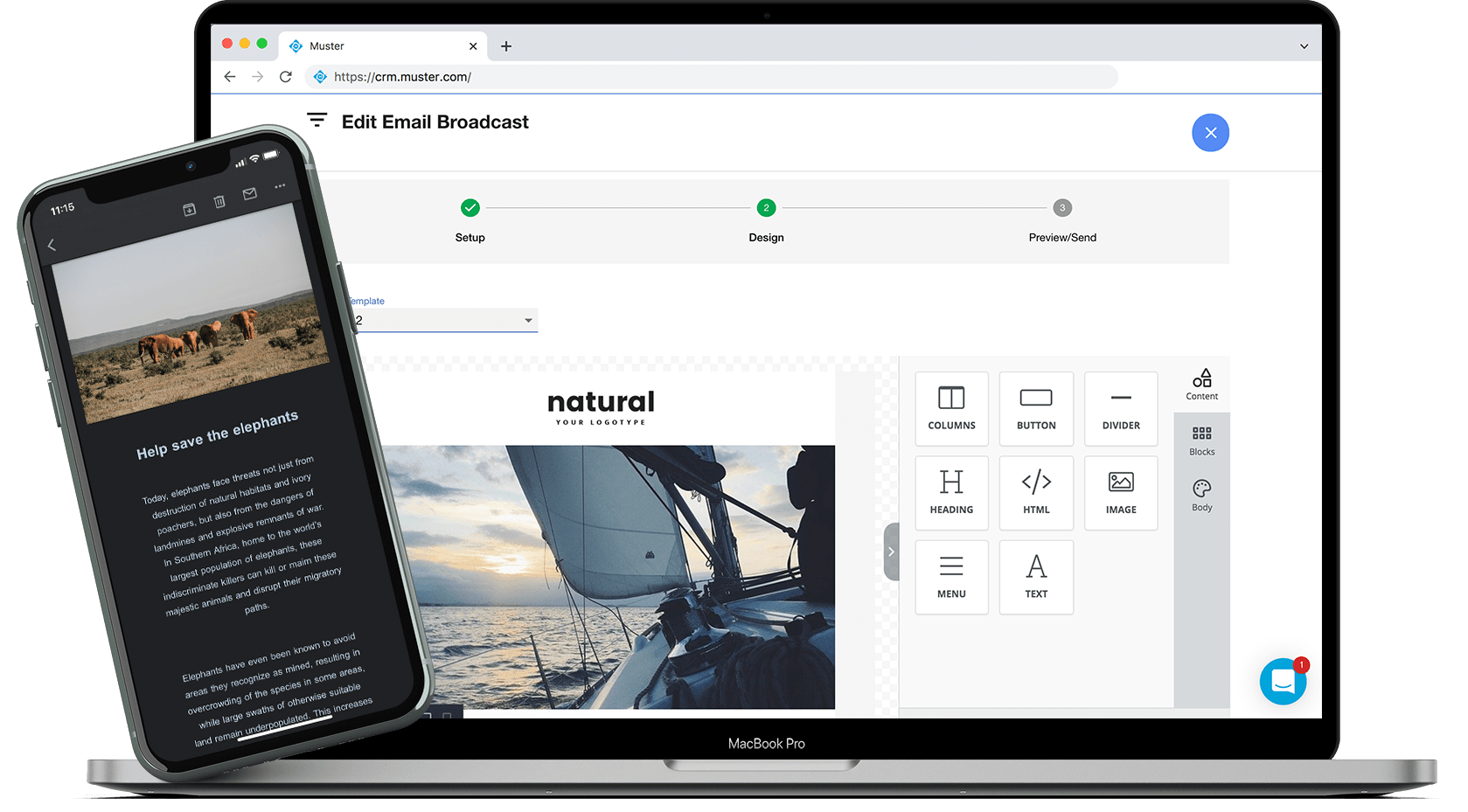 CREATE CAPTIVATING EMAILS
Keep Advocates Educated And Engaged.
Quickly create highly engaging emails to keep your members updated on your advocacy efforts and more.
Discover How Muster's Platform Can Improve Your Association.