MUSTER FOR CORPORATIONS
Understand Your Stakeholders. Drive Grassroots Action.
Win More Battles.
Set your team up for success with Muster's advocacy platform. Stakeholder management, grassroots advocacy, and text (SMS) engagement tools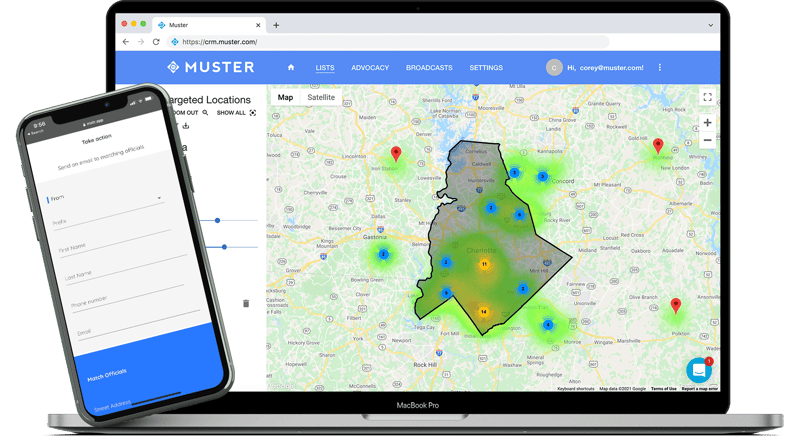 Set Your Government Relations Team Up For Success.
Wherever your battle, our industry-leading database of U.S. legislators and legislative boundaries ensures you'll have the ability to make an impact. Break down stakeholders by district, activate them in highly customizable advocacy campaigns, and measure success.
Stakeholder Management
Our advocacy CRM adds new insight to your stakeholder management. Build powerful lists utilizing our data and your custom fields.
Advocacy Campaigns
Drive action around core issues in your business and develop your social responsibility efforts with advocacy campaigns.
Location Intelligence
Gain valuable location intelligence about your members and supporters with our heat and marker map functionality.
Text (SMS) Marketing
Reach customers, employees, and other stakeholders to drive action quickly with text advocacy alerts.
LOCAL, STATE, AND FEDERAL ADVOCACY
Wherever Your Fight, We've Got You Covered.
From city hall to the halls of congress, our data team works tirelessly to ensure customers have the targeting capabilities they need for their advocacy campaigns and stakeholder segmentation.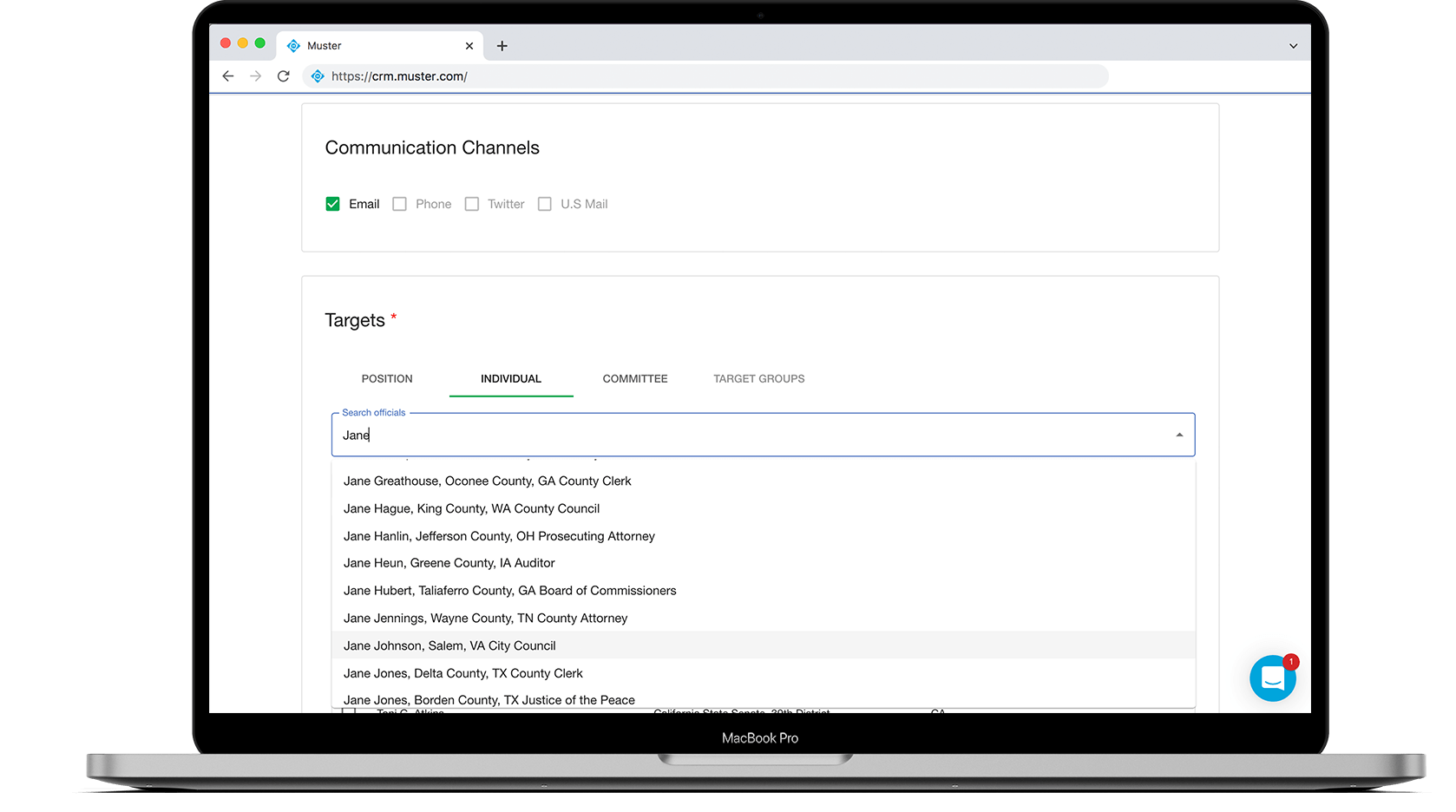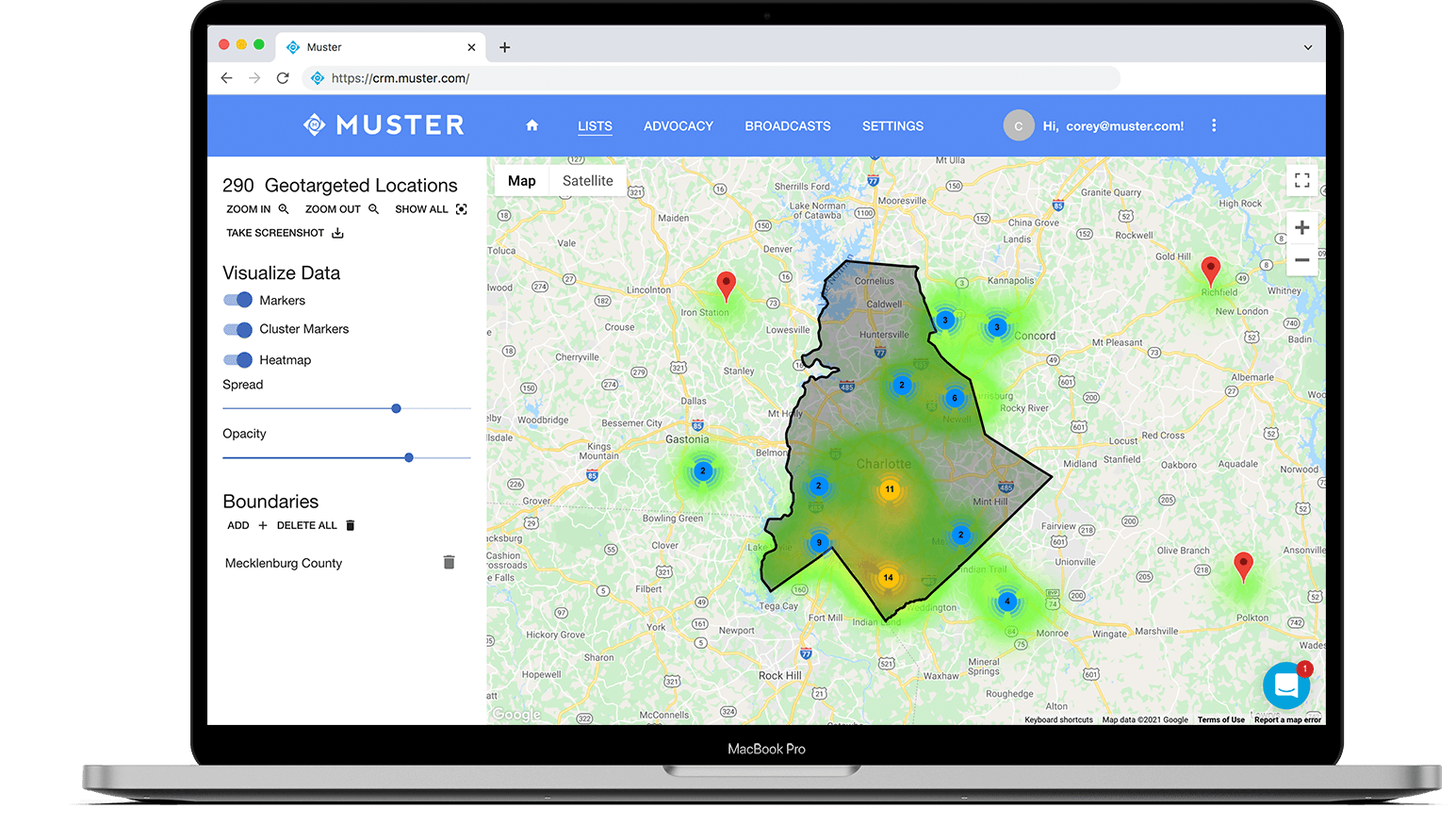 BREAK IT DOWN, MAP IT OUT
Advocacy Planning & Location Intelligence
Break down your stakeholders by district, filter with your custom data, and more to be strategically ready for your advocacy initiatives.
Stakeholder Management, Advocacy, and Engagement.
Muster is an all-in-one, easy-to-manage platform for your team. To get started with Muster, schedule a demo or request a quote below.