Having well built, updated advocacy content on your nonprofit's website is essential to ensuring your members are knowledgeable and equipped to engage in grassroots advocacy for your organization. It not only reinforces your value to members but also positions you as a leader in your space.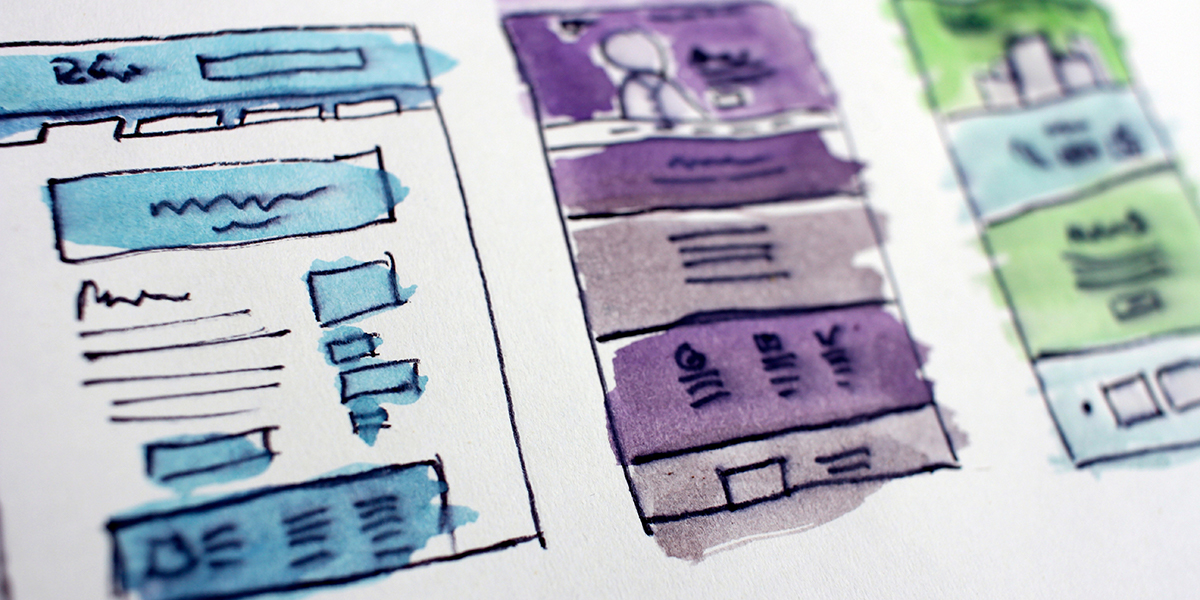 (Thoughtful design leads to thoughtful engagement)
What content should live on your nonprofit's website?
The advocacy content of your nonprofit's website, whether it lives across multiple pages or just one, should cover 3 essential categories — each of which is a key piece to having a strong grassroots advocacy program that can keep your members engaged, drive new sign ups, and be a foundation for successful campaigns.
1. Education
This is where you sow the seeds of your advocacy program. Highlight the issues at the heart of your organization and why what you're doing on the advocacy front is so important. Educating your members is the first step in what we'll call the advocacy loop. This is a great place to have a sign up for advocacy newsletters so that you can continually educate supporters via email newsletters and send them alerts when the time to take action comes.
Take a look at some educational content from one of our clients', the James River Association based in our hometown of Richmond, Virginia.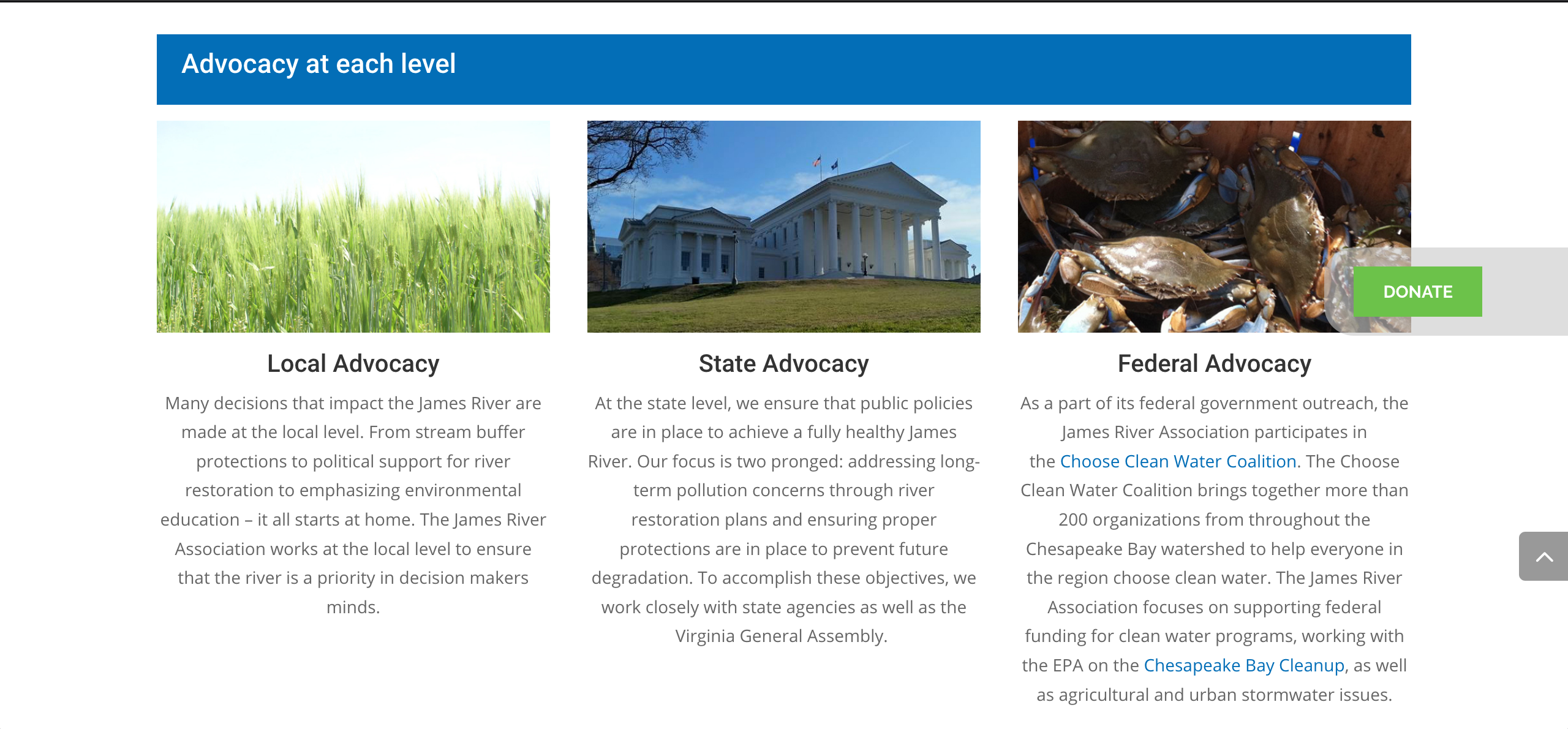 (Click to see more of the James River Association's advocacy)
While this is just a small glimpse into their advocacy-based content, you can see how they're educating their members and supporters on what their advocacy program entails. Starting at the local level, where they assert how important local level efforts are, up to federal level with initiatives and coalitions they're apart of. Throughout the page above you'll also find various Call-to-Action's (CTA's) encouraging people to sign up or take action on legislation.
Having these well placed CTA's within the education portion of your advocacy pages is important in creating a funnel for your advocacy — driving new supporter signups and guiding people through the process of taking action for your nonprofit.
Every nonprofit is going to be different in terms of what you cover in the education portion of your advocacy content whether you're a 501(c)3, 501(c)4, or a 501(c)6 but no matter what these are some things you should touch on:
Reinforce the mission and vision of your organization through its advocacy efforts.
Educate members on legislative priorities for the year and how they can get involved.
Highlight your local, state, federal agendas and any coalition or partner organizations you're apart of.
Reiterate how crucial engagement is and what it can accomplish .
2. Tools
The most important part to giving your advocacy program the legs it needs and deserves is providing the proper tools to your members so that they can be fully engaged and invested in your initiatives.
Grassroots Advocacy Software

Let your members send targeted messages to legislators
Measure the effectiveness of your advocacy campaigns
Widgets and sign up forms on your website give you an actionable presence

(see image)

This is the most powerful tool at your nonprofit's disposal. Advocacy software should be the centerpiece of engaging your members.

Legislator Lookup

Another handy tool nonprofits can utilize is legislator lookup, while not entirely necessary it gives your members a chance to find who represents them should they want to contact them outside of your organization's advocacy efforts.

Bill Tracking

A powerful tool to pair with advocacy software — bill tracking surfaces legislation important to your organization and keeps your supporters educated and updated on how legislation is progressing within different committees and legislative bodies tying together education and action.
For more information regarding bill tracking check out our blog on the best options currently available to government relations professionals.
3. Impact
How are members supposed to be invested in your nonprofit, both monetarily and with their time, if they don't see the impact they are having? Sharing results on legislation, regulations, and budgets is the final piece of the puzzle and it closes the advocacy loop for your members.
With tools like advocacy software you can show the efficacy of your grassroots with analytics backing every campaign so you can share with members how many messages they sent to legislators, and you have a list of new supporters to nurture into members and donors.
Conclusion
Ensuring that the advocacy content across your nonprofit's website provides education, tools, and the impact you and your members had on legislation will drive better engagement and better advocacy. It will cement your nonprofit even further as a leader and continually set your organization up for success.