MUSTER ADVOCACY CRM
Lightweight, powerful contact management for advocacy and government relations.
Your government relations team's new best friend. The Muster Advocacy CRM is the easiest way to manage and segment your advocates. Bring more precision to your advocacy work without all the headaches.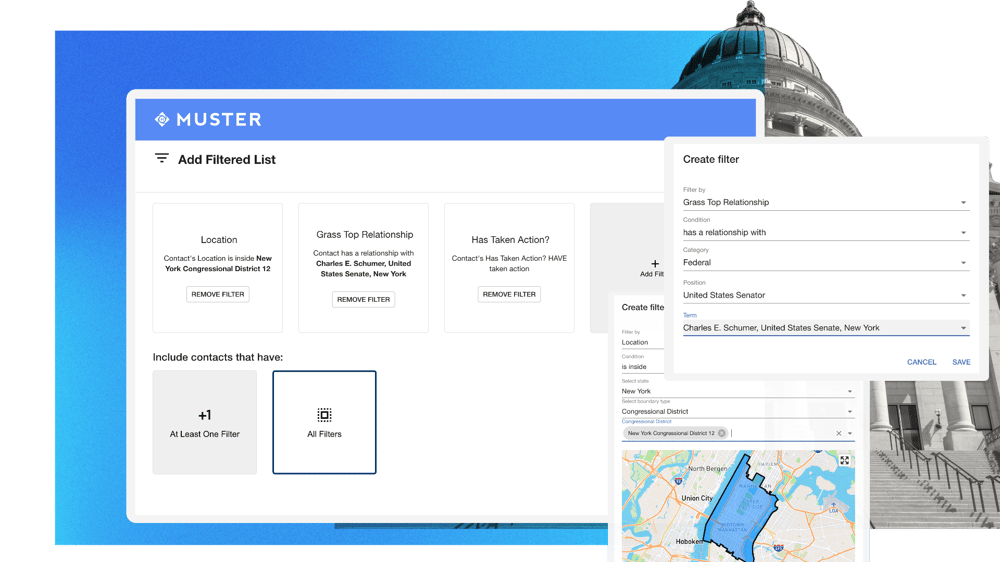 DROP THE SPREADSHEETS
You Deserve Better When It Comes To Advocate Management.
Why settle for spreadsheets when you can have a comprehensive advocate management solution? Muster offers powerful tools for managing advocates and stakeholders, all wrapped up in user-friendly workflows. Say goodbye to the hassle and hello to efficiency.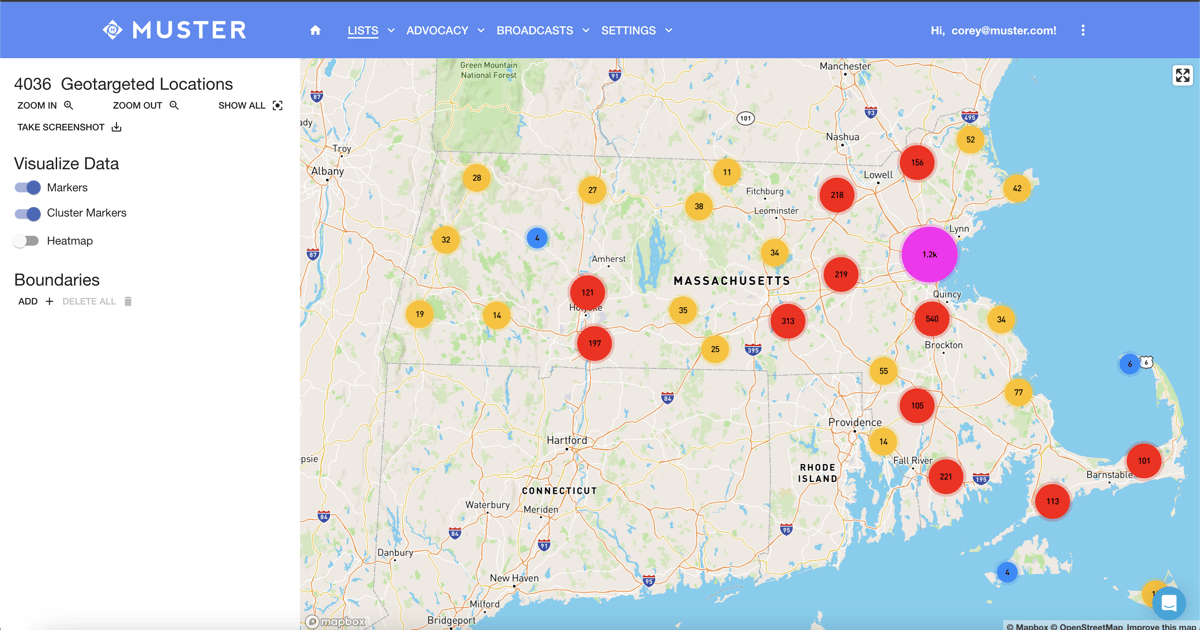 A CRM FOR PRECISION ADVOCACY
Less time poring through spreadsheets, more time getting government relations wins
The Muster CRM pairs your data with our leading dataset of US geographic and legislative boundaries. Get the insights into your stakeholders and advocates when you need them.
Reliable District Matching
From congressional districts down to city council boundaries—easily segment your advocates to power your government relations and advocacy work.
Create forms that grow your mission by helping your acquire advocates. Use these forms to build petitions, event sign-ups, and more.
Build powerfully insightful maps that display your advocates and boundaries based on filters you put in place.
Easily add and manage the custom data you have for your advocate with Muster's custom fields.
Append a grasstops relationship to an advocate's contact card and understand the relationships between your advocates and their elected officials.
Send new sign-ups in Muster to your favorite apps seamlessly with our Zapier integration.
ACTIVATE THE RIGHT STAKEHOLDERS
Fuel your government relations work with Muster CRM insights.
When you pair your data with our comprehensive US local, state, and federal boundary dataset you uncover a new level of insight into who to activate in your advocacy and government relations work.
Backed by intuitive workflows and industry-leading support, you spend less time sifting through data and more time doing the work that matters.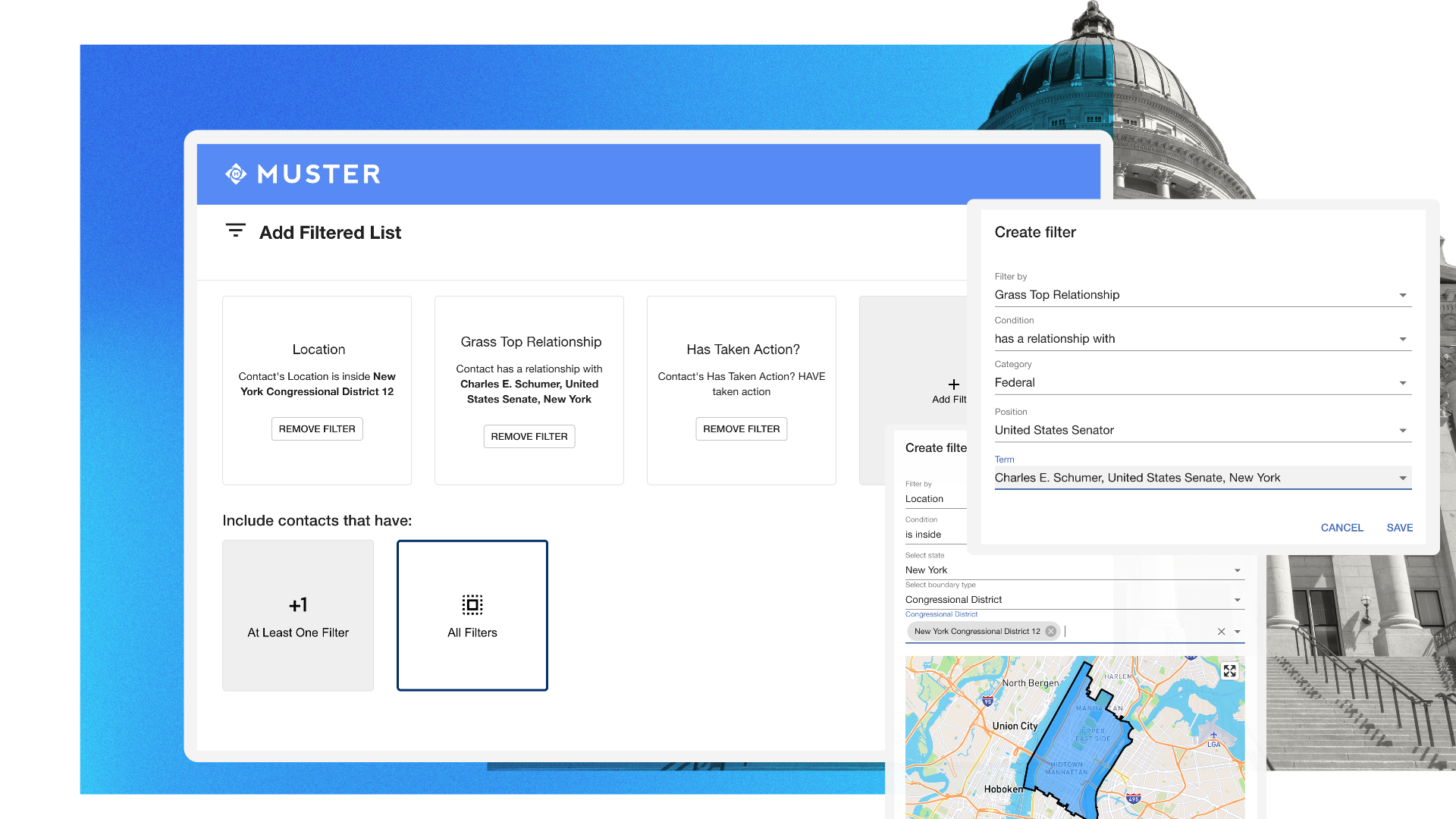 Informing engagements with advocates, stakeholders, and elected officials.
The product is very easy to use and allows for quick access to our members, lawmakers, and other stakeholders. Muster is integral in assisting our association with communications directly to lawmakers and individual stakeholders in our industry. Muster also provides an easy way for our members to advocate on behalf of our industry!
MUSTER ADVOCACY CRM
Discover an easier way to manage your advocate data and uncover insights.
To get started, schedule a demo with a member of our team.