MUSTER ADVOCACY CAMPAIGNS
Drive action and get the win your organization needs.
Create highly customized grassroots campaigns that connect your supporters with elected officials and drive change.
A PROVEN WAY TO WIN
Easy To Launch Campaigns.
Even Easier To Take Action.
A hallmark of Muster has, and always will be, our ease of use. Not just for you, but your supporters, members, advocates, and stakeholders. Discover how Muster has empowered organizations and their supporters.
"Using Muster has increased our reach on issues that matter most to our members. Our members find it easy to click through the prompts and customize their message to legislators, and they are able to easily share the Action Alerts among their networks as well."
Embed videos, customize colors, give advocates the ability to customize messages that speak to your advocates and brand.
Local, State, & Federal Advocacy
Wherever your fight — our in-house database and team will ensure that you'll reach precisely who you want.
Give your supporters the ability to contact their elected officials through email and patch-through phone calls.
Add an even more organic feel to your grassroots campaigns with subject line and message rotation to elected officials.
CUSTOMIZE THANK YOU PAGES
Get More Value From Your Advocacy Campaigns.
Policy wins are great. You know what's just as great? More donations, more PAC contributions, more memberships, event sign-ups, etc.
With customizable thank you pages you can leverage your advocacy to improve other areas of your organization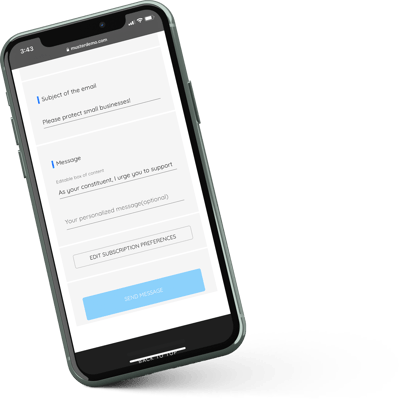 ACTION FORM WIDGET
Make Action A Click Away On Your Own Website.
Every action center comes with an embeddable action form widget. Customize the advocacy experience for your supporters by combining our widget with your landing pages.
The widget simplifies the advocacy experience by making action taking one step.
Want to get more out of your advocacy efforts?
Request a personalized demo to see how Muster's Advocacy Platform can make advocacy easier for your organization and your advocates.