PLANS AND PRICING
Grassroots Advocacy and Government
Relations Software Tailored To Your Needs.
You shouldn't be forced to buy redundant tools or software that won't meet your needs. So don't. With Muster nearly every piece of our platform can be purchased individually saving you money, and the headaches of poor solutions. Can it get any easier than this?
Most Features
Full Muster Platform
Everything Muster has to offer.
An all-in-one grassroots advocacy and engagement solution.
Pricing varies based upon # of advocates
---
Advocacy CRM

Advocacy Campaigns

Email Marketing

SMS Text Marketing

Industry-Leading Support

Local, State, Federal + Custom Targeting
Most Popular
Advocacy Only
Full access to our grassroots solution to drive advocate action and measure results.
Pricing varies based on the # of actions
---
Muster-Hosted Advocacy Action Centers

Embeddable Action Forms For Your Site

Local, State, Federal + Custom Targeting

Message Rotation + Message Mapping

In-Depth Analytics & Reporting

Exportable Analytics & Reporting

Industry-Leading Support
Most Flexible
CRM + Advocacy
Get advocate acquisition and management tools + our easy-to-use advocacy solution.
Pricing varies based upon # of advocates
---
Advocate Storage + Management

District Matching / Segmentation

Grassroots Advocacy Campaigns

Form & Petition Builder

Connect Your Apps With Zapier

Industry-Leading Support

*Muster plans are not limited to the 3 options listed above. To figure out a subscription that works best for you please reach out to our team.
INTUITIVE SOFTWARE BACKED BY INCREDIBLE SERVICE
Discover how Muster empowers organizations to elevate their advocacy efforts to new heights.
We selected Muster to replace a different grassroots advocacy platform...Muster is flexible and expandable to meet potential future needs. It allows us to mobilize our members to contact their elected officials with clear, consistent messaging and an uncomplicated and user-friendly experience for administrators and users.
The product is very easy to use and allows for quick access to our members, lawmakers, and other stakeholders. The customer service provided by the team at Muster is second-to-none!
Muster is a great overall value. It provides us with everything we need in strategic grassroots advocacy software. Muster takes it to the next level by better informing our Congressional engagements, providing us analysis on which districts receive our correspondence.
ADVOCATE LIST BUILDING
Precision advocacy made
almost

effortless.

Quickly and easily identify advocates by constituency, geographic boundaries, custom fields, grass top relationships, and more to drive more informed advocacy efforts for your organization.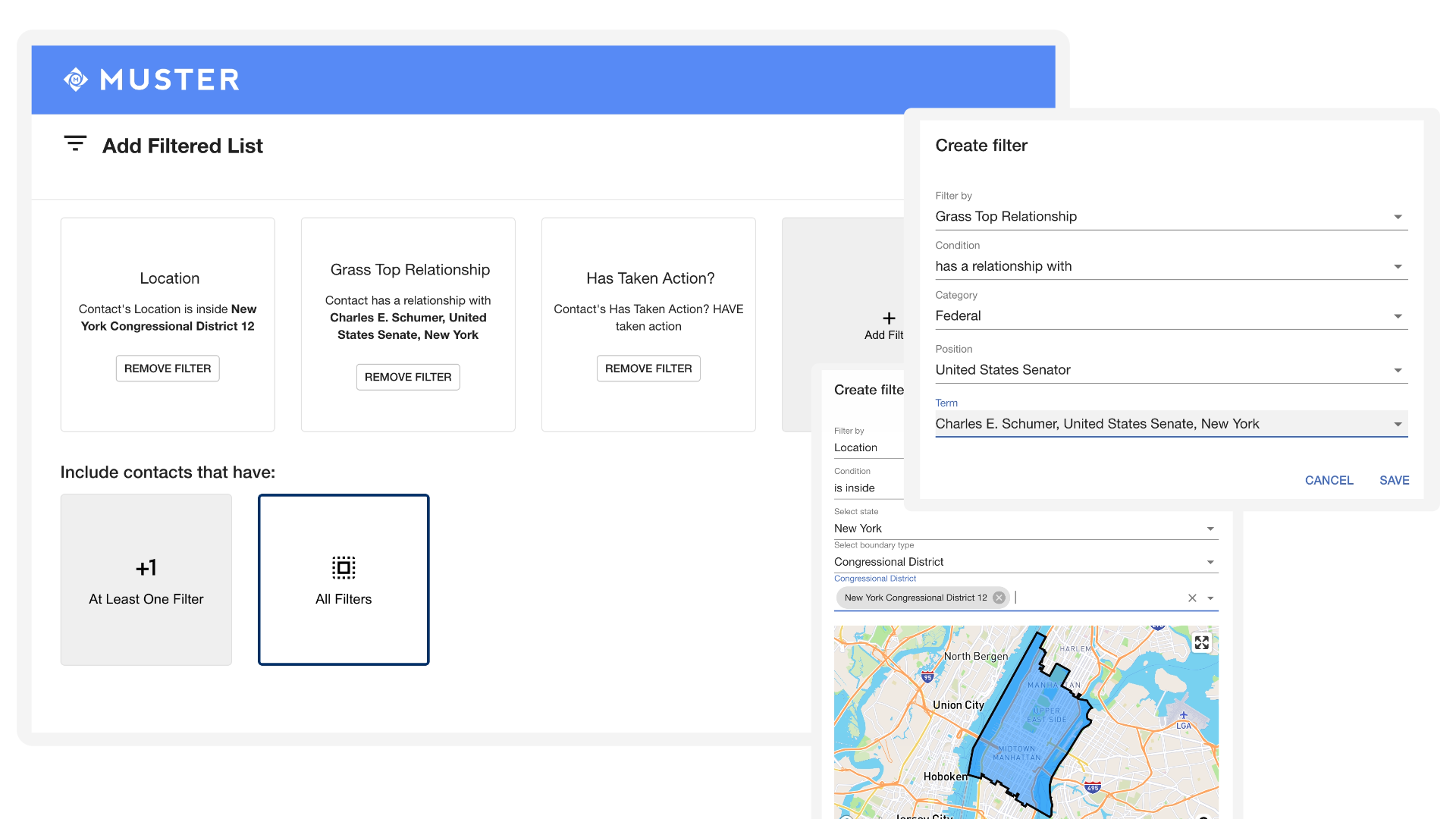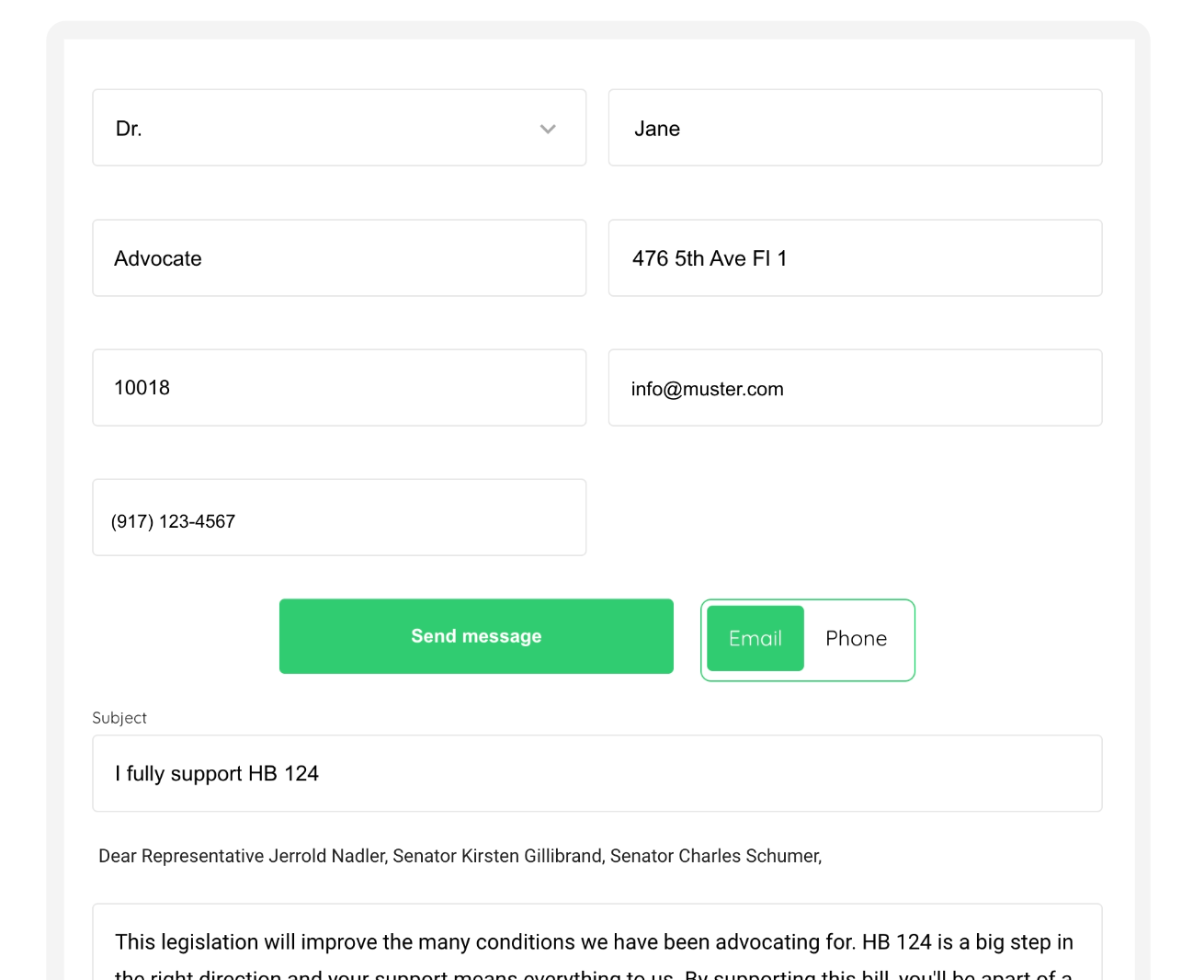 EMBEDDABLE ACTION FORMS
Transform your website into a hub for action,

your way.
Every Muster campaign comes with an embeddable action form that you can embed onto any page. With a simple copy and paste of code you've turned your webpage into a hub for change and action.
LET'S CHAT
Want to see Muster in action for yourself?
Discover how Muster can empower your organization's advocacy efforts firsthand. Let's chat about your needs and how Muster can help you accomplish your public policy goals.