---
Communicating with your membership solely through email and newsletters isn't enough in the digital age we live in. Members expect more. Sharing important news and messages online are absolutely key to maintaining good relationships with your members, strengthening your organization's online presence and sharing online advocacy action centers.The four main social media platforms that your association should be utilizing are: Twitter, Facebook, LinkedIn and Instagram.
Need some inspiration first? Check out how digital tools are changing the association world:
---
Twitter
Twitter is a social media platform expertly designed to embrace our short attention spans. A post on Twitter is called a "tweet": a short message that cannot exceed 140 characters in length. Tweets allow you to share content quickly, and we encourage you to include relevant hashtags to connect your tweet to the larger dialogue. Twitter is a simple, effective tool to share online advocacy centers. You can even include links and multimedia to tweet or online advocacy center.
Twitter Basics:
Follower: A follower is a Twitter user who has voluntarily subscribed to see your tweets appear on their Twitter feed.
Hashtag (#): Formerly known as the "pound sign", the hashtag runs the twittersphere. Including a # in front of a word or phrase connects the word or phrase to the global conversation around the topic, and makes the tweet searchable. Essentially, if you want Twitter users to see your tweet about #AnimalRescue, including the hashtag ensures that anyone searching for #AnimalRescue will see your tweet.

: Under each tweet you will see a small heart symbol. By clicking this heart, you are essentially "liking" the tweet. It's a great way to let other Twitter users know that you appreciate their content.

: This symbol is the "retweet" symbol. By clicking this symbol under each tweet, you are "reposting" someone else's tweet to your Twitter profile. If someone posts a useful tweet that your audience would find interesting, retweeting is a great way to share someone else's content.

: This is the reply button. To reply to someone's tweet, click this little arrow. Be aware that your reply tweet is viewable by the public.
Facebook
Perhaps the most popular social networking site, Facebook allows to registered users to create "company" profile pages. In this way, you can create a profile for you association that your membership and other interested parties can "like". Facebook posts typically reach a wide audience, so this is an ideal platform for sharing online advocacy messaging. Online advocacy centers can be easily shared on Facebook, allowing an organization to organically grow its advocacy network.
LinkedIn
LinkedIn is a social media platform in the professional space. By creating a company profile on LinkedIn, you are able to post updates and articles that anyone who "follows" your organization will be able to see. Take a look at the image below: this is an actual screenshot of the LinkedIn profile of the National Association of REALTORS. Notice how LinkedIn allows you to post a description of your association, a logo, and the following section for recent updates you post.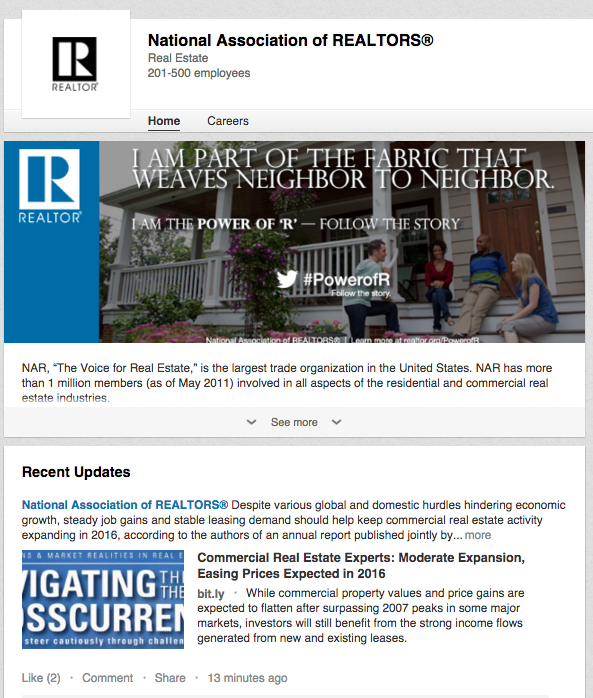 Instagram
Instagram is a social media photo-sharing application. This social networking platform is a great way to share pictures of your association's events and the little things that make your organization relatable to its audience. For example, the series of pictures below are posted on our Instagram profile: an "I voted" sticker, apple cider donuts, cityscapes, etc. Sharing these snapshots from our office life are fun ways for clients to learn more about Muster as a company!

Similar to Twitter, Instagram users can include hashtags in the description of their images. Once a hashtag is added to a description, the image will be indexed under that hashtag and will be searchable.
For example, a great way to get your association's name out in your community is by including your city's hashtag. In doing so, anyone searching your city's name as a hashtag will find your images. You might find some new members or supporters to participate in your online advocacy pushes this way!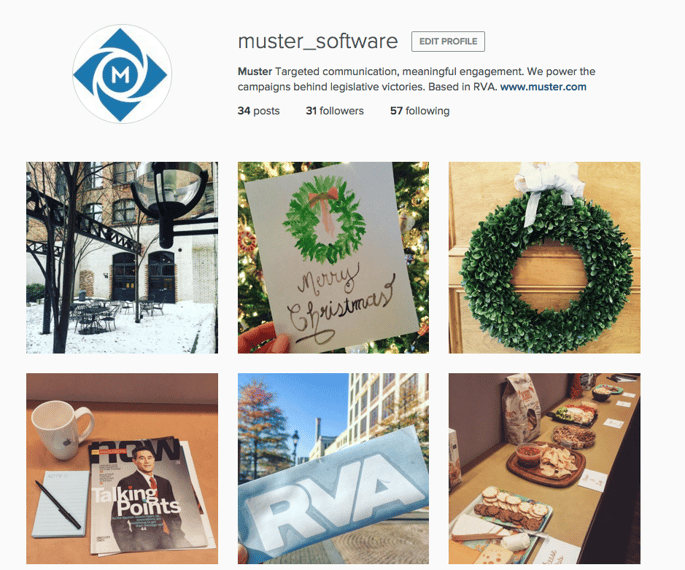 As previously described in the "Twitter" section of this post, Instagram also has a small "heart" symbol that allows the user to "like" the image. Liking images is a good way to engage with similar associations, create partnerships and get involved with like-minded people.