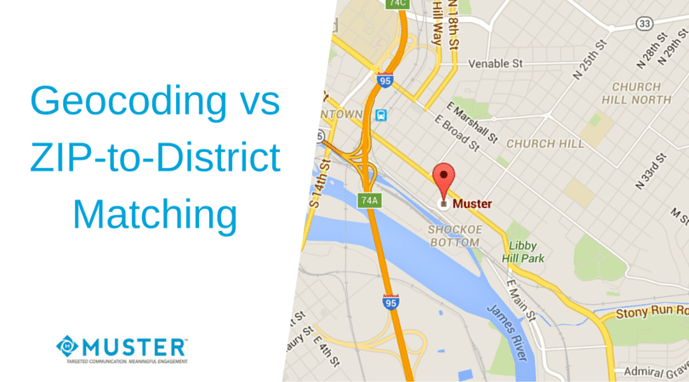 "The problem of figuring out who represents a given citizen is tougher than you might think", the Sunlight Foundation suggest (in this blog post). For companies and organizations with a need to determine what legislators represent their constituents, location-based data is the engine of the constituent matching machine. In terms of political advocacy software, the technological parameters behind the platform directly influence the accuracy of constituent matching.
First, let's define the three key terms explored in this article:
Constituent Matching: For advocacy software, like Muster, constituent matching is the process wherein citizens are automatically paired with their correct elected officials at the local, state, and federal level.
ZIP-to-District Matching: The act of relying on postal codes, or ZIP data, to match a constituent to legislative representatives. ZIP-to-district matching can be widely inaccurate because ZIP codes do not necessarily overlap with political boundaries.
Geocoding: Broadly, geocoding is the process of utilizing spatial data to pinpoint an exact geographic location. For example, this advocacy software program converts a constituent's geographic address into a set of GPS coordinates.
Imagine this scenario: a hypothetical association, the Virginia Professional Association, has been working year-round to craft a piece of legislation, Bill XYZ, that will be introduced in the Virginia General Assembly. The association needs the active support of its membership to convey the importance of Bill XYZ to legislators. The Virginia Professional Association invests in advocacy software to ensure the political participation of its membership. Here are two possible outcomes depending on the technological capacity of the advocacy software used:
Option 1:

The Virginia Professional Association uses advocacy software with geocoding functionality to perform political advocacy. With this software, the Virginia Professional Association can trust that their members are contacting their correct elected officials. The Virginia state senators receive phone calls and emails from their constituents concerning Bill XYZ, and the bill is passed.

Option 2:

The Virginia Professional Association purchases advocacy software which relies on ZIP-to-district matching to pair the association's members with elected officials. With this software, the association sends advocacy campaigns out to its membership; however, the program innacurately matches constituents with Virginia state senators. Suddenly, Virginia state senators receive mass communications from Virginia residents who do not live in their districts. The advocacy messaging is ignored, and Bill XYZ fails.
The two opposing outcomes of Bill XYZ represent the general idea that accurate constituent matching is a cornerstone for an association's legislative initiatives (although we may have laced slight dramatization into the story.....)
The Takeaway: In today's political environment, the potential for inaccuracies with ZIP-to-district matching can negatively affect legislative advocacy. For an organization or company relying on geographic intelligence technology, it is imperative to invest in a software solution that utilizes geocoding to ensure accuracy. Geocoding is particularly important for organizations operating in the legislative scene, where constituent matching must be precise.
Has your association been aware of the difference between geocoding and ZIP-to-district matching? Share your thoughts and experience in the comments section below.