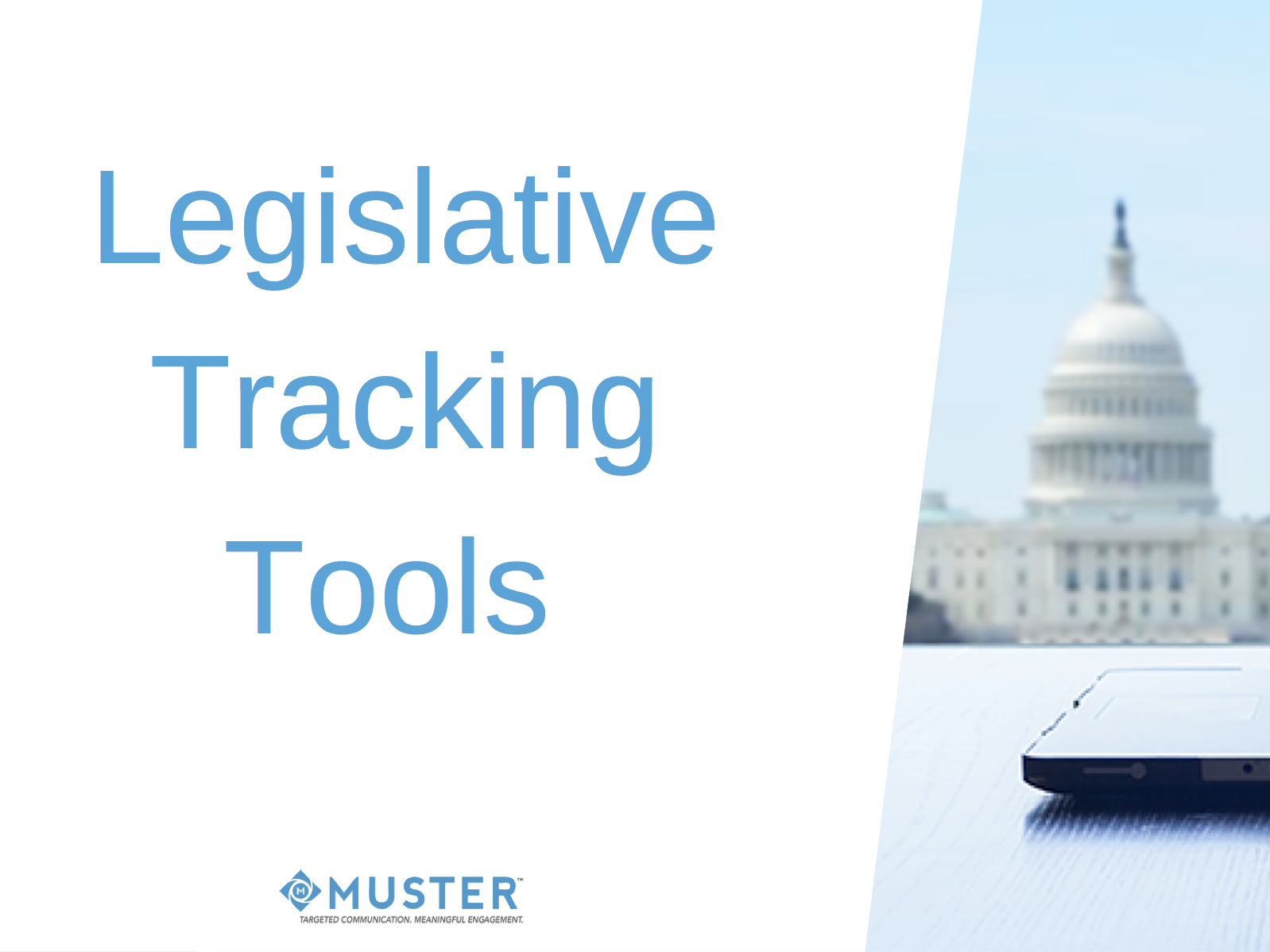 When paired with grassroots advocacy software, a legislative tracking service can empower your team with the digital tools to take a comprehensive approach to advocacy strategy. Legislative tracking software allows users to follow the legislative journey of bills that are of interest to them. We've compiled a list of legislative tracking services that your organization can use in conjunction with Muster's robust advocacy communications tools:
TrackBill allows you to follow bills in all 50 states and in Congress. TrackBill also offers a mobile app, so users can access legislative tracking tools from their smartphones- definitely useful for government relations professionals who may be spending hours in the halls of their state legislative building!
GovTrack allows you to follow the journey of bills going through the United States House and Senate. You can sift through bills by topic, keyword, sponsor and status. The tool is free, and is useful for any small-budget organizations looking to affect change at the Federal level.
LexisNexis is a renowned legal and government research database. Although we've never encountered a client who uses their legislative tracking tool, their services should be considered by organizations looking for a reliable service.
The National Conference of State Legislatures has presented a list of bill tracking services offered by each state legislature. Each state legislature offers some form of bill tracking service, although these services are likely less wide-ranging in what they offer than the other private services listed. For example, our company, Muster, is headquartered in Virginia and many of our clients supplement Muster's powerful advocacy tools with Virginia's free service: Lobbyist-in-a-Box.
FiscalNote offers legislative and regulatory data at both the state and federal level. Built off the idea of government relationship management, Fiscal Note allows its' users to make informed decisions about advocacy strategy by accessing analytics on lawmakers.
Conclusion
When used in conjunction with Muster's powerful advocacy tools, the abovementioned bill tracking services can elevate your organization's advocacy game.