advocacysoftware
4 Reasons Online Advocacy Improves Your Approach to Influencing Public Policy
Four reasons why using an online advocacy service can improve your method to approaching advocacy and net greater legislative results
---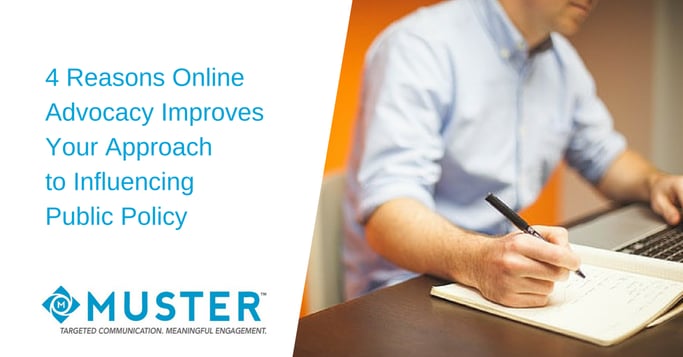 We've worked extensively with both association and nonprofit professionals, learning how these leaders engage their members and supporters in their organization's legislative and political advocacy initiatives.
As we continue to speak with professionals involved in government relations with nonprofit organizations, the more we understand how significant the method is that they use to execute their advocacy strategy. Here are four reasons why using an online advocacy service can improve your method to approaching advocacy and net greater legislative results:
Saves you time. If you are a member of an organization with a small staff size, then you're experienced in juggling multiple projects at once and assuming many different responsibilities to best serve your association. Dedicating hours and days to craft and execute on an advocacy strategy is near impossible. An integrated advocacy platform will streamline and automate your advocacy needs, saving you time and allowing you to be more efficient in your day-to-day duties.
Increases your productivity. You don't have time to waste copying-and-pasting email addresses from spreadsheets to send out an email blast. Online advocacy programs do the legwork for you- saving you time and subsequently allowing you to be more productive and efficient in all other areas of your job.
Saves your organization money. Successfully engaging your membership in an important legislative push is priceless. Unfortunately, membership-driven advocacy campaigns do come at a price, and depending on the way you get there, the price tag can be hefty. Luckily, you have options regarding advocacy platforms and some, like Muster, have affordable pricing for any organization regardless of size and budget. Look into acquiring a powerful platform, and consider taking your advocacy strategy in-house.
Saves your industry/cause money. Often, certain legislation can result in thousands, if not millions, of dollars lost in the industry your association or organization protects. Investing in a software solution to ramp up advocacy efforts is well worth the purchase, considering the potential costs to your organization if your legislative goals are unmet.
If you are a professional involved in an organization or associations advocacy efforts, then consider investing a online platform that will streamline your efforts and increase your productivity, making your organization more effective in the policy sphere.