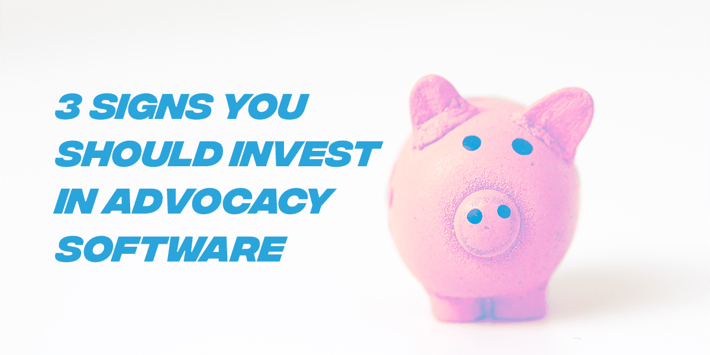 Most professional trade associations are equipped with association management software (AMS) to streamline their contact management operations. From collecting dues and membership records to event management, a good AMS is a useful tool membership-based organizations. Association management software can alleviate pain points associated with organizing membership online, but an AMS doesn't provide member engagement opportunities to the same degree as an advocacy platform.
Membership engagement requires strategic planning and continuous nurturing- whether through events, email messaging, social media interaction or personal outreach. The often-overlooked area of membership engagement comes in the form of advocacy software. Implementing a strong advocacy program with a special focus on involving your membership will strengthen membership engagement by connecting members with your association. Below are 3 signs that show that your organization should invest in advocacy software:
1. You Don't Know Where Your Members are Located
Our team has interacted with many association leaders who ask us, "where are most of my members located?" Knowing in which geographic regions or political constituencies your members live is essential to crafting an effective advocacy strategy. We have witnessed some of the most accomplished executives and lobbyists match their constituents to representatives by hand! In the digital age, associations should be embracing technology to save time for those who manage advocacy programs, and help staff better understand the members they serve. With Muster, you can easily create segmented lists of members by legislative district so you know exactly where your members are located.
2. Your Email Open-Rates are Low
If you use an email marketing service to communicate with your membership, you are likely tracking analytics of your outgoing emails. If your email open-rates are performing below industry averages (see the numbers per industry here), something needs to be tweaked. After sending an email to your members
hip, you should analyze the results to determine which factors could be improved upon to boost future email campaigns. Consider expanding your email marketing content to include advocacy campaigns and Action Alerts. Demonstrate to your membership that your messages contain important and time-sensitive information and expect higher open-rates as your members come to understand that Action Alerts require their engagement.
3. You Need to Add Value To Your Membership Offering

Demonstrating the value that your association offers is key to attracting and retaining members. If you find that your association is experiencing a shrinking membership list or is looking to grow, then diversifying member benefits to include advocacy may intrigue prospective members. Acquiring a digital advocacy platform will also present greater opportunities to grow member involvement in government relations, such as creating a government relations committee!