grassroots
What Associations Need to Know When Developing a Digital Advocacy Strategy
What Associations Need to Know When Developing a Digital Advocacy Strategy
---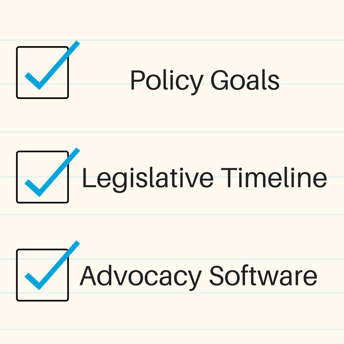 "Political mobilization is seldom spontaneous" - Jack Walker
Many organizations exist for the purpose of political advocacy. Their lifeblood is the promotion of a particular cause in the public sector. Therefore, it is of critical importance that these organizations have a strategic approach to advocacy that allows these groups to be efficient and successful year round. Digital advocacy is a key component in motivating supporter action by engaging them through online platforms. We've put together a simple checklist to help highlight the important consideration in developing a digital advocacy strategy.
What is your policy goal?
Is it policy development? Regulatory change? The desired legislative results should be reflective of your mission statement, so make it clear and concise. Your Calls to Action should also clearly articulate the ultimate goals of certain policy change.
Create a legislative timeline
Know when your state's legislative session is occurring, and map out key pieces of legislation you are hoping to influence. Strategically engage your contacts in light of upcoming legislative actions. Understanding your legislative agenda is crucial in order to map out your advocacy initiatives and be able to communicate with your supporters at the proper time. Furthermore, is there a piece of legislation that will be reviewed by your city council? Your school board? Stay ahead of legislation on every level of government that affects your cause.
Integrate online tools
Developing a strong digital strategy should be the cornerstone of developing an advocacy strategy. Equip your organization or association with the right software to enhance your advocacy efforts and increase the effectiveness of your outreach. Products like Muster, that are affordable and simple to use, will help you easily facilitate communication between your organization and its members. Digital communications easily engage contacts and turn them into advocates.