nonprofit software
Nonprofit Software: Best Solutions For Your Nonprofit
Looking for the best nonprofit software solutions? Look no further than our comprehensive guide, with ratings and expert advice. From fundraising to donor management, we've got you covered.
---
The nonprofit software market is full of solutions for organizations.
Which one is right for you?
There's a solution for everything, and the sheer number of options can seem dizzying. We've got you covered.
We've categorized the tools you need to keep your nonprofit humming, weighed their pros and cons, and even captured their ratings, so you know which tool is best for your nonprofit.
Important Links and Resources for your Nonprofit

Here are the different kinds of software we'll go over:
Advocacy Software
Advocacy software or grassroots advocacy software is an essential tool for nonprofits. It allows organizations to create advocacy campaigns that mobilize supporters at the grassroots level to drive political change.
For nonprofits, it builds awareness around the issues at the heart of their organization and is a fantastic tool to capture new donors, create measurable impact, and tell your story.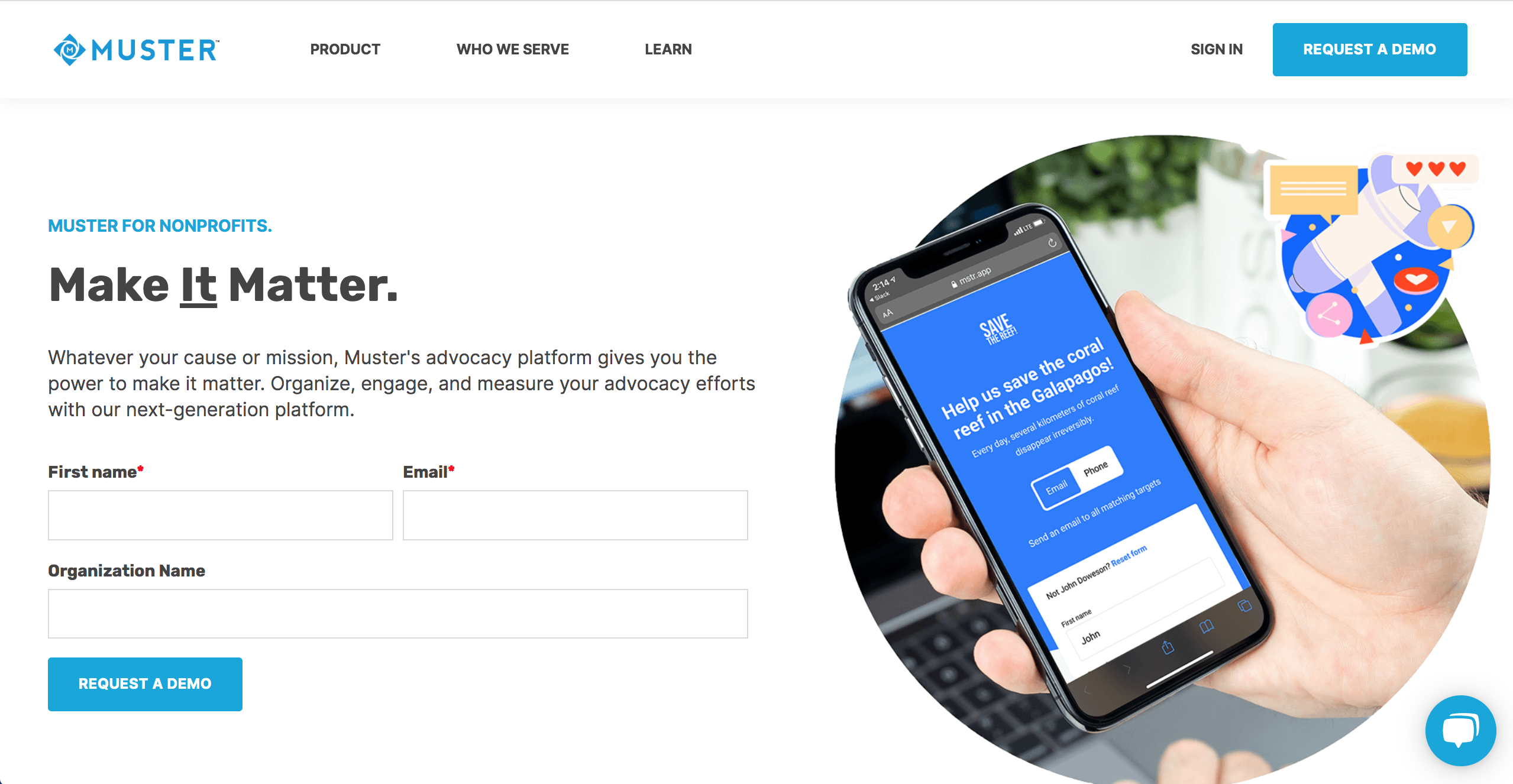 Avg Ratings: Capterra - 4.9 / G2 - 4.9
Why we love it
Muster comes in at number one for a multitude of reasons. From its overall value to its modern, easy-to-use interfaces—Muster has features built specifically for nonprofits to drive donations and grow their supporter base. On top of all of that, they deliver best-in-class customer support.
Increase Donations With Advocacy

Muster has a great feature that lets you turn on a Donate button, linking your advocacy and donations together. It's no secret that someone taking action on your advocacy campaign is 7x more likely to donate. Muster lets you quickly and easily take advantage of this.



Buy Only What You Need

Muster's advocacy platform is unique in allowing you to purchase only the solutions you need. While other vendors might require you to buy their email marketing tools, CRM, and more as an "all-in-one" solution, Muster enables you to avoid these redundancies and save your nonprofit dollars while getting a best-in-class solution.


Grow Your Advocates and Donors

While Muster has a great platform to help you drive policy change, it also has powerful and easy-to-use advocate management features. Build advocate lists using powerful segmentation and visualize your supporters via mapping capabilities. Create infinite sign-up forms for events, your website, and more.
Other Advocacy Software To Consider
Capitol Canary
Avg Ratings: Capterra - 4.7/ G2 - 4.6
Capitol Canary offers powerful advocacy campaigns and reporting tools for nonprofits. Great for large associations, nonprofits, and corporations. Easy to set up and use. Solid customer support.
Salsa Engage
Avg Ratings: Capterra - 4.0/ G2 - 4.0
Salsa Engage offers a more expensive, all-in-one solution for nonprofits. Salsa's comprehensive platform has tools for donor communication via both fundraising and advocacy campaigns.

Donor Management Software
Donor management software allows nonprofits to have relationships with their donors. It will enable organizations to grow their donor base, accept donations and track contributions, run donor campaigns, and analyze donation data. It also allows nonprofits to manage donor information and history and provide channels to communicate with their donor base.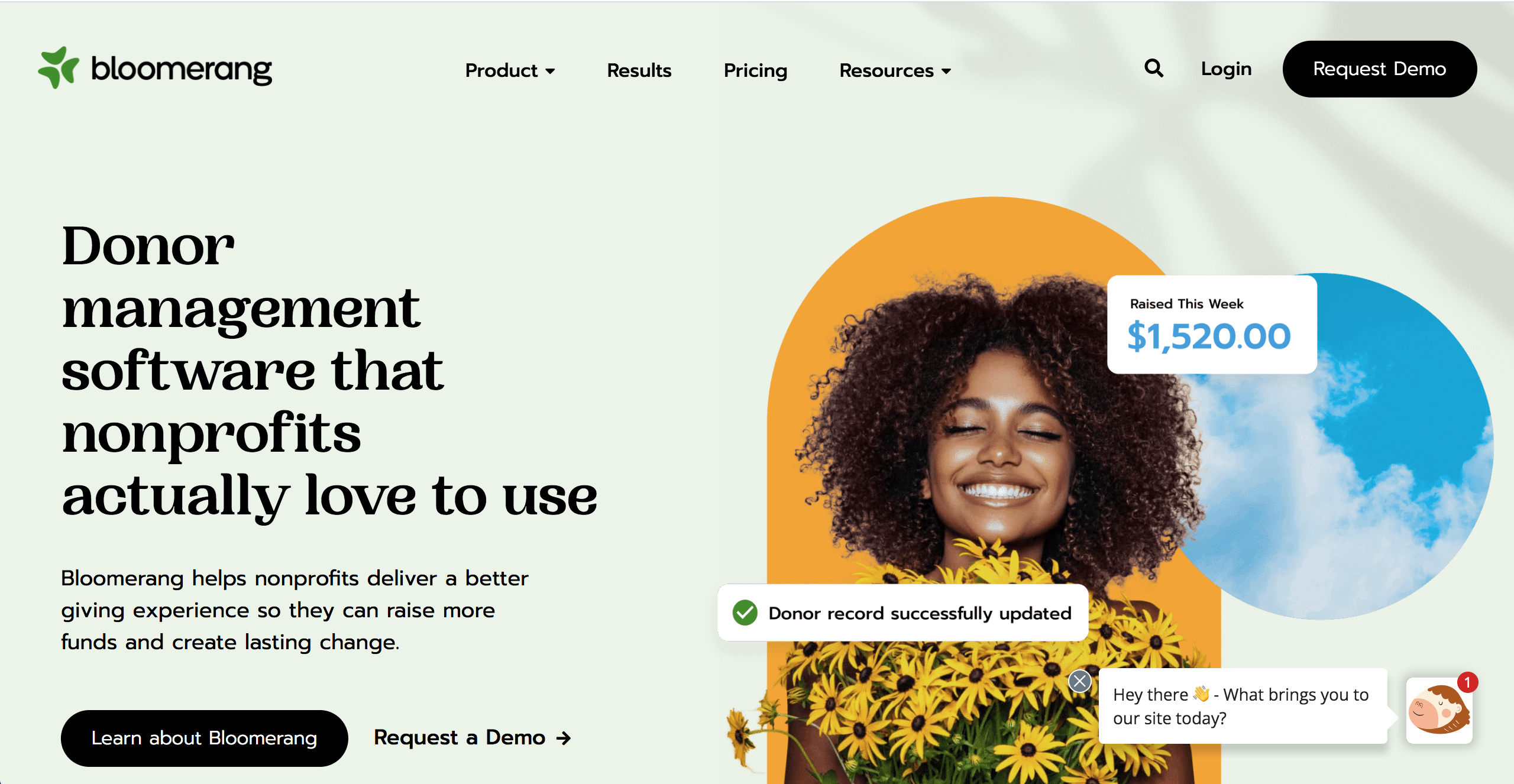 Avg Ratings: Capterra - 4.7 / G2 - 4.7
Bloomerang is the best of the best in the donor management space. Bloomerang allows nonprofits to raise funds to grow their donor base and improve donor relationships.
Complete with robust features, including analytics reporting, CRM integration, workflow automation, and fundraising management. With easy-to-use features at a reasonable price, Bloomerang is great for small and medium-sized nonprofits.
Donation tracking & management

Bloomerang makes online fundraising simple. You can turn every page into a donation page with donation buttons, and create custom landing pages and forms to encourage recurring donations. There are also peer-to-peer fundraising tools to turn supporters into fundraisers.

Nonprofit CRM

Manage your member community, including donors, volunteers, sponsors, grant givers, etc. Bloomerangs interactive dashboard allows users to monitor donations, campaign results, donor retention rate, and daily productivity.

Email marketing and donor engagement

Bloomerang features some beneficial marketing tools for your donors. You can Create, send and track personalized emails, create donor surveys, get email insights, design direct mail and letters, create email newsletters, appeals, acknowledgments, and so much more.
Other Top Donor Management Software To Consider
NeonCRM
Avg Ratings: Capterra - 4.4 / G2 - 4.1
NeonCRM is very similar in pricing and features to Bloomerang. Suitable for nonprofits of all sizes. Robust features like contribution tracking, grant and membership management, user-friendly donor database, member directory and portal, and receipt management.
DonorPerfect
Avg Ratings: Capterra - 4.5 / G2 - 4.4
Donorperfect has comprehensive solutions and easy-to-use features. Manage donations, gift matching, contacts, receipts, donor data, email, and fundraising initiatives from a single system.
Eleo
Avg Ratings: Capterra - 4.8 / G2 - 4.6
Easy-to-use tools with simple, affordable pricing. It can be easily integrated with other platforms like Mailchimp & Constant Contact.
Eleo has must-have features like mobile and recurring giving. On top of being a solid donor management platform, there's campaign, grant, pledge management, gift matching, and more.

Fundraising Software
Fundraising software equips nonprofits with the tools to receive, track, and manage contributions from donors. With a practical fundraising component, nonprofits can increase their donations and grow their donor base, increasing their influence to a broader audience. Some key features to look for include:
Processing and management of payments

This feature allows you to manage different payment options for your donors. This feature is vital because it will enable donors to use multiple payment methods to donate and set up recurring donations.


Multiple donation options (P2P, Text to give, etc.)

It gives your donors more flexibility, making it easier to donate.




Recurring donation management

This feature allows your donors to set up and manage recurring donations, making it easier to donate, thus increasing donor retention rates.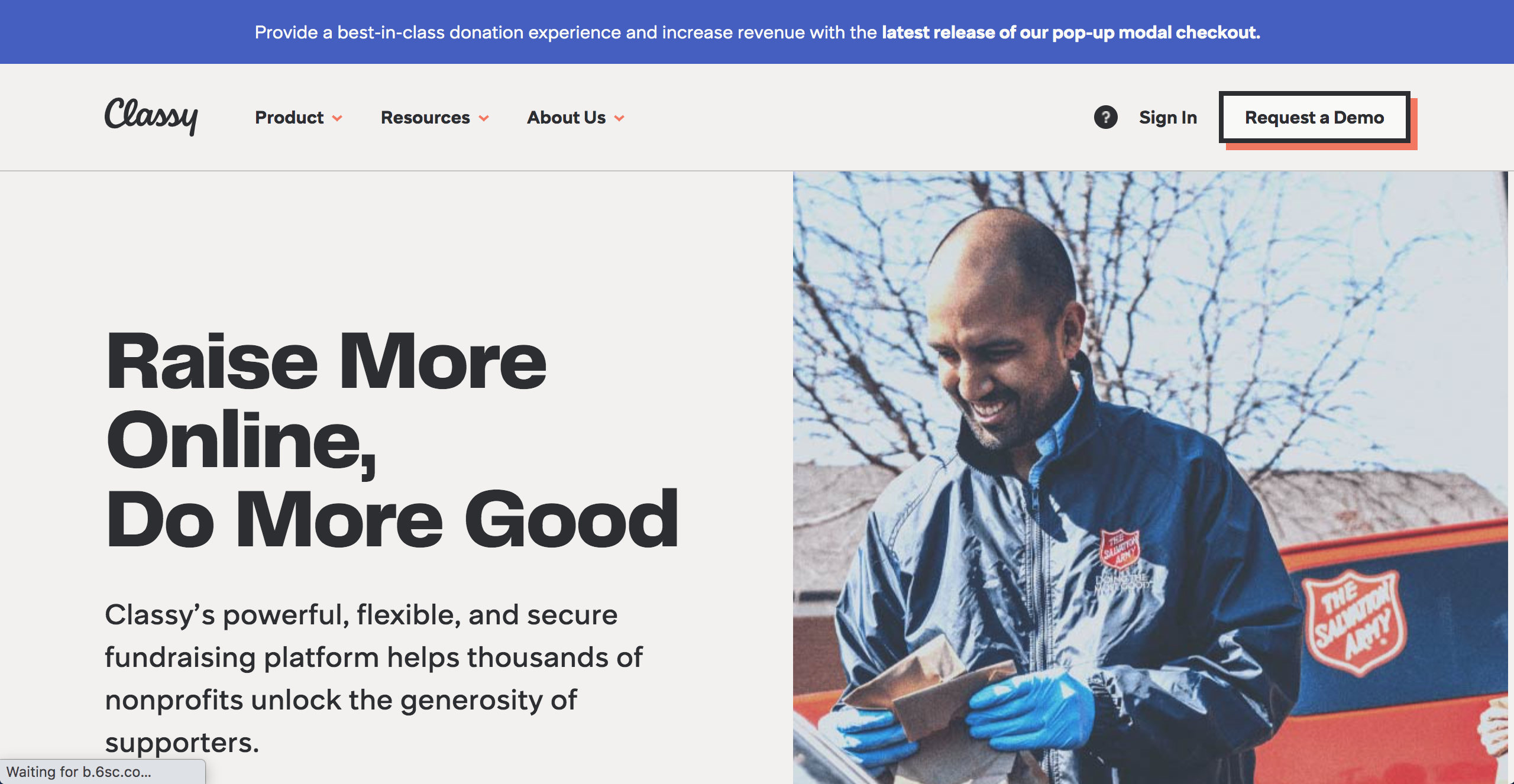 Avg Ratings: Capterra - 4.3 / G2 - 4.4
Classy is a B Corp social enterprise that provides a suite of world-class fundraising tools for nonprofits. Payment processing and recurring donations. Great for 501c3 certified nonprofit organizations. Simple and straightforward to use with excellent customer support.
Fundraising Management

Classy Manager allows you to manage fundraising campaigns and your supporters, track performance, edit recurring gifts, and build reports. You can seamlessly merge your data with your CRM with integrations and open API.


Campaign Management

Build and manage fundraising campaigns and events in one place. You can personalize and edit your fundraising pages and view campaign metrics to drive decision-making.


Payment Processing

Flexible payment options allow donors to use credit cards, digital wallets, and even cryptocurrency. Classy Pay makes recurring giving simple. Their streamlined backend process enables you to access funds faster and manage your transaction data.
Other Top Fundraising Software To Consider
Funraise
Avg Ratings: Capterra - 4.7 / G2 - 3.9
Funraise provides outstanding features like gift matching management, mobile, online, and recurring giving, and contribution and donation matching. Funraise offers a free trial and customized pricing, and feature packaging.
Givebutter
Avg Ratings: Capterra - 4.9 / G2 - 4.8
Givebutter is the #1 rated fundraising software platform on G2. Their platform is entirely free to use with a 100% transparent tip-or-fee model. Features include donation forms, fundraisers, events, donor management (CRM), email, texting, etc.
Donorbox
Avg Ratings: Capterra - 4.8 / G2 - 4.2
Easy to use and set up, Donorbox allows you to set up optimized recurring donations through high-quality forms quickly. Provides excellent customization features to reflect your brand. Suitable for all nonprofit sizes.

Grant Management Software
Grant management software allows nonprofits to organize and manage their grant programs and grow their funding efforts. It is essential to nonprofit organizations because it allows you to easily track all the information and activities you need to bring to your stakeholders when applying for grant money. It also allows you and your team to simplify and accelerate their grant application process so you can apply for more grants and get more funding for your organization.
A sound grant application management system, collaboration tools, and intuitive form-building are essential features to look for when shopping.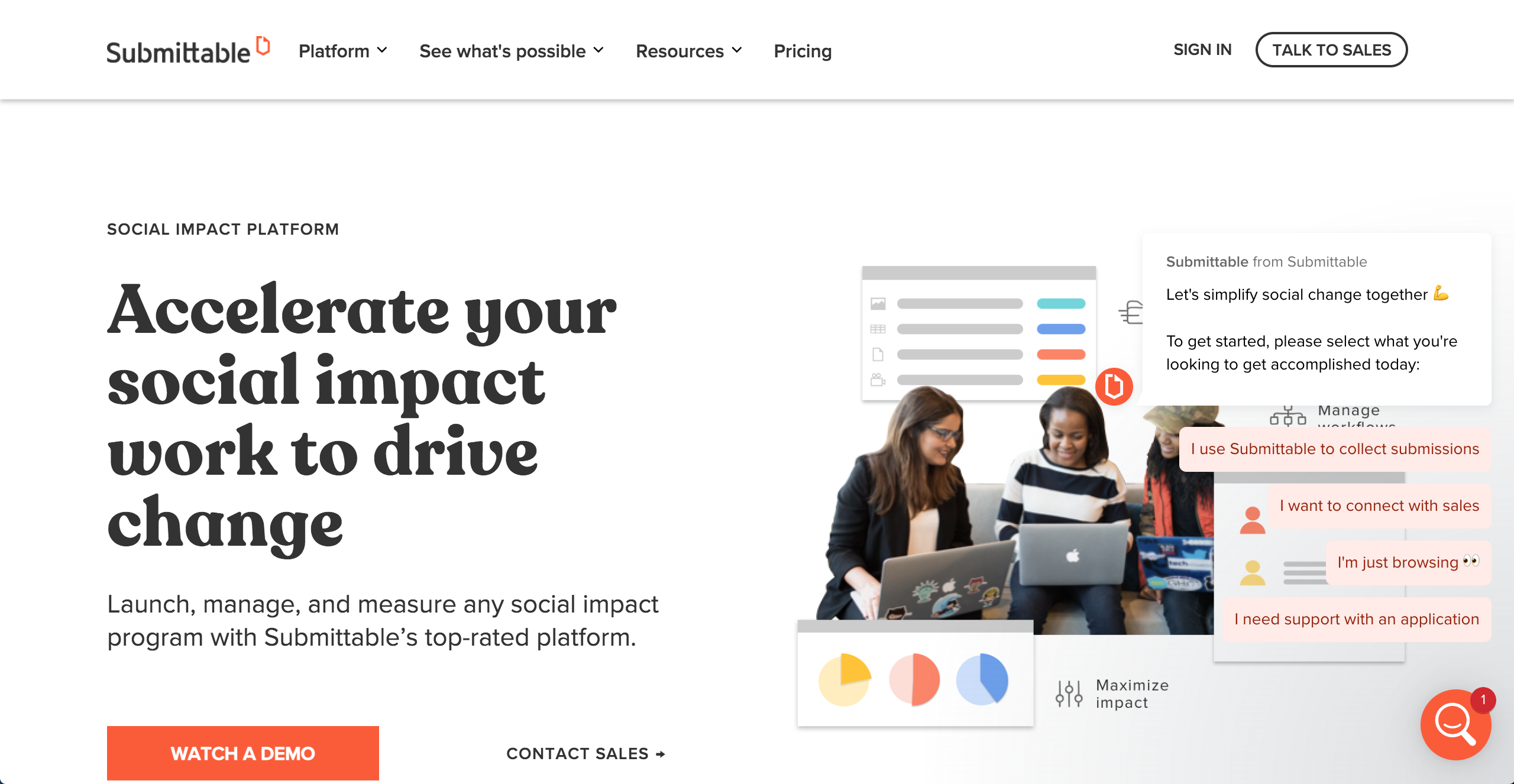 Avg Ratings: Capterra - 4.8 / G2 - 4.3
A more expensive option. Great for organizations focusing on grantmaking, employee volunteering, and CSR programs. Great features like archiving & retention, landing pages/web forms, collaboration tools, and grant application management.
Collaboration Tools

Real-time collaboration with submitters and reviewers on one platform for easy reference. You can create unique email messages or email templates to communicate with others. Organize submissions with customizable labels and automatically or manually assign submissions to reviewers.


Landing Pages/Web Forms

Submittable allows you to create six unique form types and collect submission content in one place. You can also create and customize landing pages, a branded portal, and an internal dashboard.
Archiving & Retention

Submittable gives you the tools to store and analyze your data and measure your success. From impact and custom form reporting to bulk data exports and reviewer progress reports.
Other Top Grant Management Software To Consider
WizeHive
Avg Ratings: Capterra - 4.8 / G2 - 4.3
Easy to use and set up. Higher-end pricing—great for corporations and higher-ed institutions.
Wizehive has powerful features like grant and compliance management and a full life cycle applicant portal. Grant award tracking and customizable forms are also included. There are thousands of integrations that allow you to tailor your experience as well.
SurveyMonkey Apply
Avg Ratings: Capterra - 4.6 / G2 - 4.4
Suitable for all types of organizations. Great features like fundraising management, grant application management, grant discovery, customizable forms, and commenting/note-taking.
---
Conclusion
The choices for nonprofit software out there can be overwhelming. We hope this blog provides you with more insight into the different categories and tools available.
Good luck!