Through our work with trade associations and nonprofit organizations, Muster has learned much about different association management software (AMS) and membership management software (MMS). Many associations use an AMS or MMS to streamline their organizing, event planning, communicating, and financial reporting efforts.
With dozens of options available on the market, choosing the right association or membership management software for your organization can be an overwhelming task. The key to sifting through this sea of software is not to look for the best membership management software, but rather to look for the best membership management software for you.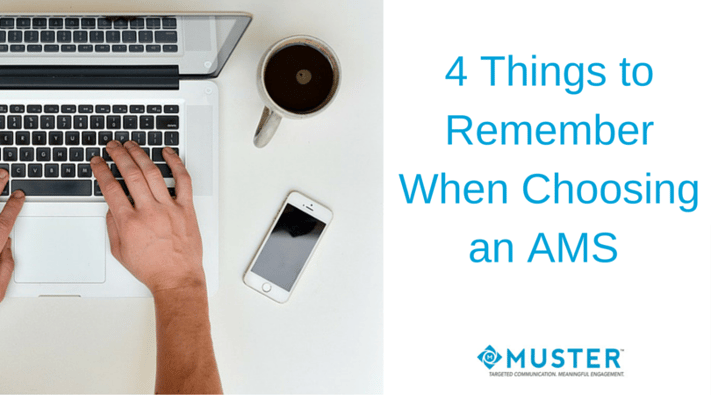 When choosing your software, the following are important to keep in mind:
There are many AMS options to choose from.

Know what features you are looking for before you do your research, and do your research before you select a software.

Think about organizational fit.

Different software solutions have different strengths and weaknesses, and it is important that you find a software that is a good match for your organization.

Price

.
Price is a strong limiting factor for most organizations, both for-profit and nonprofit, and it is important to keep in mind while researching different AMS options.
See a demonstration.
These software companies will gladly give you an online demonstration of their software so you can be as informed about your options as possible.
This is a small, nonexhaustive list of the Association Management Software that we see most frequently used by our clients at Muster.
YourMembership

- Their award-winning design team helps create an appealing, unique site for your organization.

MemberClicks

- Ideal for organizations with one to ten staff members.

iMIS

- Thorough, robust association management software.

Blackbaud

- Designed for large, complex organizations, and works well with federated and/or international organizations.

Personify

- Manage associations and organizations of all types and sizes.

MemberZone

- MemberZone's online membership application form is ideal for organizations or associations looking to grow their membership.

Abila

- Emphasizes report-making to keep you as informed about your organization as possible.

WildApricot

- Will help you design a custom, mobile-friendly website for your modern association.

ChamberMaster

- Specifically designed for chambers of commerce, ChamberMaster includes in-depth analytics and custom reporting.

NationBuilder

- Best for political campaigns and elected officials, NationBuilder has integrated donor, member, and volunteer management.

StarChapter

- As its name suggests, StarChapter works best for local chapters of a state- or national-level association.

Weblink

- With clients across almost a dozen different types of organizations, WebLink emphasizes their ability to "Acquire, Engage, Retain, and Track" membership.
Association management software has helped many organizations become more efficient and influential, and it is a critical component of any 21st century association.
You may also be interested in reading: