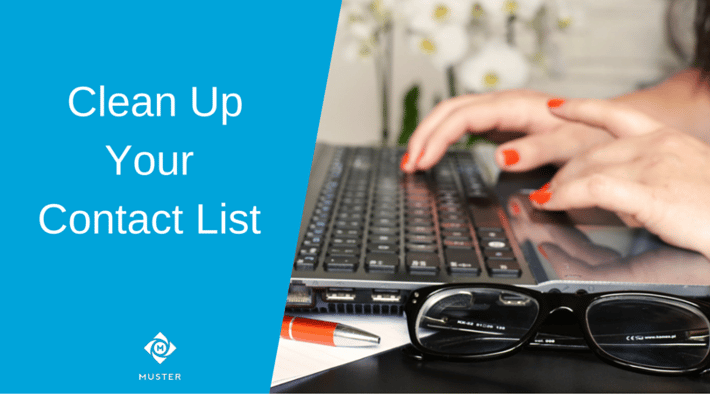 Maintaining your association's membership list is often one of the most complicated aspects of running the membership side of an association's day-to-day operations. Keeping your association membership list "clean" is necessary, and will save time and resources as your association grows. We outline 4 simple tips to help your association streamline contact list management:

1. De-duplicate Email Addresses
Depending on where your association stores its contact/membership lists, the process of de-duplicating email addresses can be automated through software, or require a bit of manual work on your end. The majority of contact management systems automatically de-duplicate ("dedupe") emails upon import, so staff members will not have to worry about accidently creating multiple profiles for the same individual. However, if your association maintains contact lists in a spreadsheet, duplicate email addresses may be present. In order to dedupe contacts in Excel, you must create a filter to remove copies of the same email address. Instructions on how to do that in Microsoft Excel can be found here.
2. Get rid of bounced emails
If your association utilizes an email marketing system or another powerful contact management software, like Salesforce, you will be able to determine whether or not emails to certain individuals have hard-bounced in the past. If an email address produces a "hard-bounce result" as the recipient of an email, that means that the email was not delivered to the email inbox. Emails can bounce for a plethora of reasons, but typically a hard-bounce suggests that the recipient's email address is no longer valid or the domain name for the email address no longer exists. It's best to delete your "hard-bounces" because they aren't viable or useful email addresses to store, and keeping them will simply clog your contact list. Without checking, it's very likely that you have multiple records of individuals belonging to your association membership.
3. Update membership information
When organizing your contact/association membership list, it's a great idea to also ensure that your membership information is correct. Members may have recently gotten married and changed their last names or perhaps a member input the wrong prefix of "Mr." or "Mrs." by accident. An easy way to update your membership information with no hassle is by using Muster's simple (and customized!) web page that you can share with your membership. The web page has text boxes for first name, last name, email address and any other custom fields you would need to know about your members. It takes a member 15 seconds to fill out the form, and when they do, their new information is automatically updated in your contact list (if you have an account with Muster). If a new individual fills the form out, they will be automatically added as a contact! Muster also syncs with various CRMs, so keeping your contact information is easy.
4. Segment into sub-lists to optimize organization
Maintaining an up-to-date contact list is required of an association. Depending on the complexity of how your association handles its membership list, your contacts may be in one list with many related tags to make it easy to properly sort them, or your contacts may be in one list and also belong to many different sublists. At Muster, we reccomend that our client associations organize their membership through sublists. Sublists are essentially slices from the full membership list that group contacts together based on a shared property. For example, Muster clients create sublists like "Board of Directors", "Internal Staff", "Public Policy Committee".
For more resources on association topics, please visit our advocacy learning center.