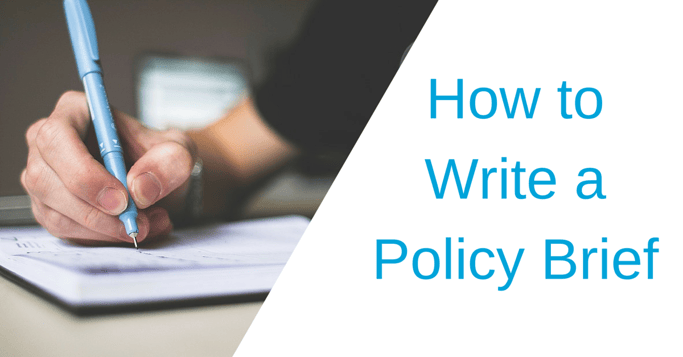 Perhaps you and your contract lobbyist are going to meet with a specific lawmaker or perhaps you've organized a Lobby Day and fifty of your members will be joining you. Whatever the case may be, if you are going to a face-to-face meeting with a legislator on behalf of your nonprofit organization on an advocacy mission, provide the lawmaker with a policy brief. Leaving this informative and persuasive report with the lawmakers is a strategic move to provide key decision-makers with important material about your policy stance.
A policy brief is a succinct synopsis of a policy issue. While some policy briefs may be unbiased and objective, advocacy-specific policy briefs will include strong policy recommendations to convince lawmakers to pursue a certain course-of-action of interest to your association or nonprofit organization. The report should present these policy-relevant recommendations in a very clear manner. Below are several tips to crafting a powerful policy brief:
Outline and format your argument. A very basic structure for your advocacy brief can be a simple: Title, Summary, Introduction with background information, Policy-Relevant Recommendations, Conclusions. Of course, you can adapt this simple format to fit your specific policy suggestions by including different section headings, photos or graphs.
Policy briefs are typically a page, to a page-and-a-half long, with roughly 700 words. Effective policy briefs will be concise and clear. A lawmaker does not have the time to read a full booklet on your policy recommendations. You may also graphically design your brief, so that it is aesthetically pleasing as well as informative!
To increase the likelihood of persuading a policy maker to adopt the measures presented in the policy brief, it is imperative that the suggestions you present are reasonable and practical. Your policy recommendations should ideally speak to the lawmakers "pragmatic policy-making sense". Additionally, lacing your argument with a sense of urgency is a great way to motivate the lawmaker to act on public policy.
Consider framing your policy narrative in terms that the lawmakers will understand.
For example, if your nonprofit deals exclusively with water quality issues and your policy brief includes complicated quantitative data that isn't easily understood by someone outside if the industry, then that policy brief is ineffective. There's an art in taking complex information and presenting the evidence in terms that someone outside of the industry can comprehend. Think professional in tone, not academic. With that said, including data in a way that supports your policy-relevant recommendations is valuable; however, too much factual information without a supporting story is pretty ineffective as persuasive tactic. Lawmakers respond to what is best for their constituency, and framing factual data with a story on how this will truly effect their constituency is the path to success.

Good luck with your policy brief writing! Need a little extra guidance? No problem. Here are a few more resources for you to tap into when writing your brief.
This report is a fantastic resource to learn more about writing policy briefs