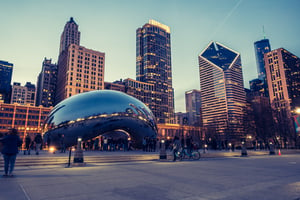 Are you headed to sunny Chicago this weekend for ASAE Annual? So are we! Whether your association is already a partner of ours or interested in exploring a different digital advocacy provider, we'd love to learn about how you engage in advocacy. Here are 5 reasons why you should stop by Booth 551 and meet our team:
Learn About Muster's Leading Advocacy Tools
There's a reason why users of our advocacy software give us a 5 STAR rating





. Our suite of online advocacy tools enhances how your organization participates in the legislative process, and our special focus on user-design and customer support sets us apart. We can't wait to tell you about our digital advocacy tools and set you up with a time to receive a live demonstration of our tools. Why do our clients give Muster advocacy tools 5 stars? Sign up for a demo and see for yourself!
Enter to Win an iPad
Even if you only have thirty seconds to spare in between catching all the amazing talks and Learning Lab events, swing by our booth for a chance to win an iPad (booth 551).
Get a Sneak Peek of Our *NEW* Digital Advocacy Platform
You heard it from us first! We're so excited about the future of our advocacy tools and we want you to be among the first association executives in the country to see it. Stop by Booth 551 for an advance look at the finest work we've ever done - our advocacy software is game-changing in both functionality and user-design. Swing by our booth for a glimpse into our future (and hopefully yours too).
Meet Our Team (we're friendly!)
We love to get to know interesting people in our space (like you) and we want to chat with as many attendees as we can! Are you a fan of coffee? Whether you drink your coffee black or sweeten your java with sugar cubes, we'd love to get to know you over a cup of joe, our treat. If you're interested in learning more about Muster's advocacy software, stop by our booth (551) and let us know you'd like to sit down for a few minutes outside of the exhibition hall.
Gain Digital Advocacy Tips from Experts
You never know where a five minute conversation with another advocacy practitioner will get you. We have our own experience running successful online advocacy campaigns for our partners. From facilitating large grassroots campaigns for energy clients to designing and building advocacy micro-sites for our friends in the real estate space, our team is equipped with deep institutional knowledge about what digital advocacy techniques move the needle that we'd love to share with you.
Don't forget to stop by Booth 551! See you at ASAE Annual!