Selecting the right advocacy software for your organization is an investment that pays big dividends for your organization's influence on public policy. Here are 5 important factors to consider before choosing the software platform that will help you accomplish your legislative goals.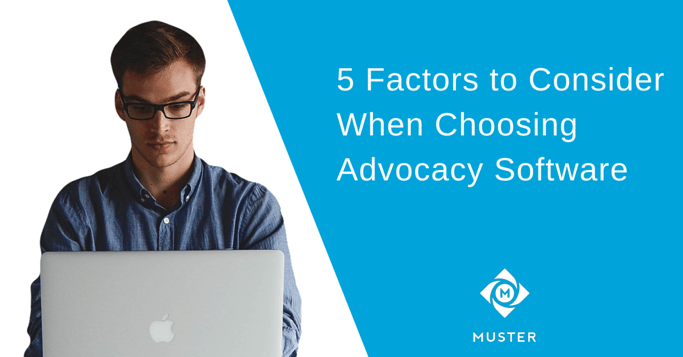 Price Point
If you're in the market for advocacy software, you're looking for an affordable solution that meets your strategic needs while being cost effective. You may have stumbled upon companies that offer software with hefty price tags. Advocacy software shouldn't break the bank, it should be an investment that makes sense for both your budget while executing your advocacy strategy. Pricing runs the gamut, so it's important to know about all your options before you overpay for an expensive solution, when you can acquire the same tools that come at a cost that your organization can afford.
Communication Options
What communication channels does the software support? Advocacy software serves to easily connect your membership with their legislators, it's up to you decide how you want your membership to communicate with them. Several platforms offer multiple types of communication options: phone, twitter, email, US mail, etc. Other platforms only offer one channel. It is also important to determine if the software has a responsive web design, meaning your Action Alerts and other communications are accessible on both desktops and mobile devices-- and work flawlessly on both. It's proven that responsive design increases total clicks across desktop, tablet, and mobile.
Updated Technology
It is no secret that technology moves quickly. Is the company updating the software? Why choose an outdated software solution when new solutions exist in the same market that are easier to use, perform brilliantly and use cutting-edge technology? Newer isn't always better…but in this case, newer is definitely better.
Customer Support
Check out reviews online, or listen through the grapevine, about software companies you are considering partnering with, and learn more about how they handle customer support.
Ease-of-Use
Many associations with a small staff don't have time to dedicate one staff member's duties solely advocacy. Don't choose an advocacy platform that is notoriously complicated, or that requires continuous training and demos and phone-calls and support and emails and hassle and stress and…you get the picture. Software platforms built on the newest technologies are easier to use because of their intuitive designs, making advocacy smart and easy for you and your membership.