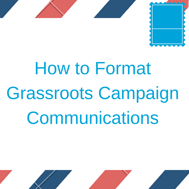 Constituent communication is an essential part of the policymaking process. Legislators rely on receiving feedback and requests from their voters in order to craft policy that reflects the wishes and needs of the community they serve. Successful grassroots campaigns can effectively shape lawmaker behavior and legislative outcomes. However, grassroots campaigns can also be unsuccessful if executed without considering several important factors, as this blog post outlines below. The single most important piece of advice to remember when developing a grassroots campaign is to aim for authenticity. Constituent communication derives its power from the sincerity behind genuine citizen engagement. It is vital that a massive grassroots campaign doesn't bury authenticity and that individual constituent voices are not lost in the noise.
If you are the leader in your organization facilitating grassroots campaigns, there are several measures you can take to increase your advocacy efforts' influence.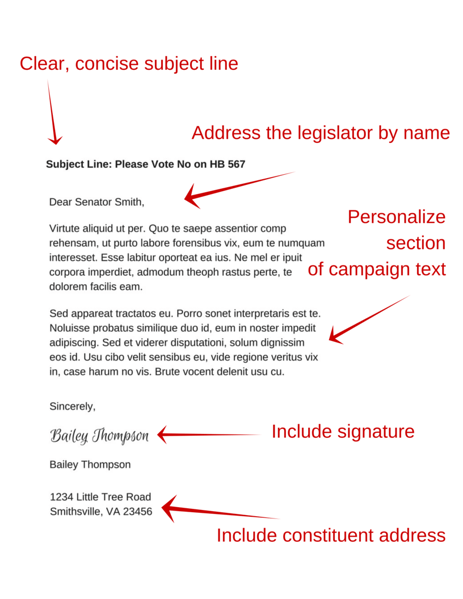 Subject line: If the grassroots advocacy campaign you are managing is being sent through an advocacy platform, look for a platform that will allow you to control all aspects of messaging, including the email subject line that will appear in a legislator's inbox. A simple, straightforward subject line, ("Please Support Bill XYZ, Vote No on HB 123, etc.) will make it easier for the legislator, or legislative staff organizing emails, to tally the number of constituents concerned about a specific issue.
Provide room for personalization as it makes a huge difference in how a campaign is perceived by a legislator and his/her staff. While it's important to be direct and straightforward about the legislative request, it is also important to leave room for constituent sentiment. If you are using a program to facilitate the advocacy campaign, consider crafting uneditable language in the opening paragraph, and allowing your supporters/membership to add their own personal story in the following paragraph. Constituents should be able to include their individual reasons for supporting or opposing a bill.
Address the legislator by name. With so many form email and grassroots mailing campaigns, a great way for your messaging campaign to stand out is to individually address targeted elected officials.
Include the constituent's signature. Unique signatures show legislative staff that the constituent personally sent the advocacy message, adding credibility to the mailing campaign. Signatures also prove to the legislator that the message is legitimate, and was not sent by an interest group, without the knowledge of the constituents themselves.
Include constituent mailing address. Legislators are most, if not exclusively, interested in the concerns of their constituents. Including a constituent's address is critical if the message is to be taken seriously in a legislative office. Most legislators will only consider and respond to the requests and input from their constituents.
Two last tips:
Schedule your advocacy campaign for a pretedermined period of time- the shorter the better week or two at the most. Most legislative offices will tally grassroots communications on a daily basis. It's best to keep your campaign's momentum going strong by limiting the amount of time your supporters are able to send letters. An effective campaign will flood a legislative office for several days, sending a clear message to the elected official.
Mind your P's and Q's! Don't forget to send out a "Thank You" campaign if your grassroots advocacy campaign successfully educates your target legislator on your policy-stance. True "Thank You" campaigns are rare, and therefore will not go unrecognized! Your organization will also be building great repertoire with the elected official, who may be more receptive to your association/nonprofit/industry's concerns next legislative battle!